Dresses come in different prints, lengths, and colors. Whether it's winter, fall, spring, or summer, dresses always look good. Besides, dresses can go in all directions, so the combinations are endless. It is pretty challenging to find the right shoes when wearing a dress. That's why we've compiled a list of the best shoes so that you'll never have to struggle in the morning again!
Sneakers
Are you looking for a pair of flat, beautiful shoes to wear under your dress? Then choose a fabulous pair of trainers, such as dad trainers or sneakers with platforms. When you wear sneakers with a dress, you automatically get a sporty and playful look. And since the sole is flat, they are also very comfortable to wear. So, win-win!
How to Combine Sneakers?
In summer, you can combine sneakers with shorter dresses. This is because it is the perfect season to show off your legs. Complete the outfit with a nice shoulder bag.
You can also wear sneakers in the cold season. Choosing a lovely maxi dress will not only make you look beautiful but also keep your legs warm. If you still want to wear your favorite sneakers with a shorter dress, you can, of course, wear tights underneath. Want to give a special touch to your outfit? Then choose tights or stockings that are patterned.
Loafers
These are what you really need. With loafers, you can go in any direction. And of course, they are perfect under your favorite dress. Since the top of the moccasin is open, you can wear them, especially in spring and summer. If you get some tights or stockings, you'll be ready for winter as well.
How To Combine Them?
The good thing about loafers is that they can be combined in many ways. Under a playful dress, choose a classic loafer and finish it off with pretty jewelry, and you're good to go. Alternatively, you can choose a bold loafer with a panther print. Add a lovely midi dress, and you've got yourself a complete outfit. It's getting a little chilly outside, but still want to wear a summer dress? Add your favorite jumper over it, and you've got a new look. You can wear tights, leotards, and loafers underneath for a sunny look.
Sandals or Slippers
Of course, you can't skip the summer months either. Sandals or slippers are preferred under summer dresses, although you can successfully combine the above types even in summer.
Sandal Combinations
Sandals come in different heights. This makes it easy to mix and match, and there is a perfect sandal for every occasion. For the summer beach, choose sandals with low heels. That way, you can walk comfortably all day long. As soon as night falls, replace your low-heeled sandals with high-heeled ones. Throw on a nice maxi dress and some fabulous jewelry, and you're all set.
Flip flop Combinations
Airy flip flops are perfect for hot summer days. Clean and polish your nails, slip your feet into them, and you're ready to go. Perfect for days spent at the beach or out on the terrace.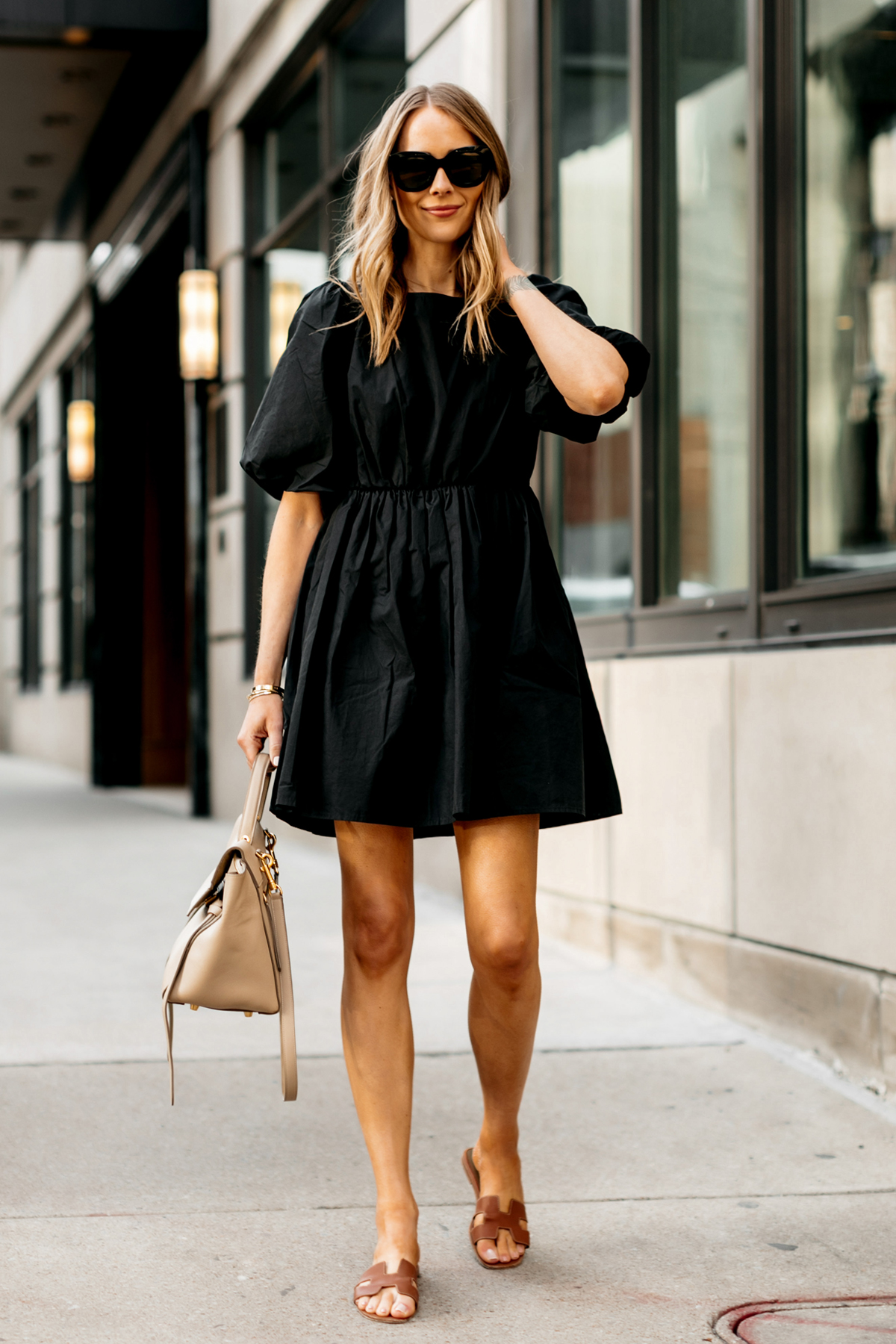 Boots
Want to wear a dress in winter? Then you may want to wear boots with your dress. Boots, just like dresses, come in different sizes and types. The great thing is that there is always a pair that suits you. Most boots are up to your calves or even higher, so your feet will be kept warm. They are perfect for winter. Whether you choose short boots, high boots, or over-the-knee boots, you can match them perfectly with your favorite outfit.
How To Combine Them?
When wearing boots with a dress, there is a rule that the shorter the dress, the longer the boots will be. The opposite is also true. For example, if you are wearing a little black dress, you can choose a nice pair of boots above the knee.
If you choose a longer dress, select short boots to make part of your leg visible. This will give you an elegant and feminine look. The difference in boots is not only in the height of the shoe but also in various styles. You can go for a classic look with square toe boots or spice up your outfit with fantastic city western boots. Match that outfit with beautiful jewelry, and you're all set.
What type of shoes do you usually wear under dresses? Let us know in the comments below!