I am sure that the famous Christmas sweater is not missing in your wardrobe, especially every time the most endearing holidays of the year approach. This is where we can show off our most colorful Christmas clothes, of course one does not take away from the other, that is to say, it is a piece that we love a lot, it does not mean that we always know how to combine it well and successfully. Yet, sometimes we are not sure how we can mix and match this staple with our other clothes. In today's article, we are going to show you how to combine a Christmas sweater through some essential and basic looks . You will love it!
Tips for Choosing the Perfect Christmas Sweater
Before we dive into this successful combination with a sweater as classic as the Christmas sweater, let's look at a series of basic tips to start off on the right foot:
Whatever your taste, there is no need to have garlands if you do not like them, the simplest are also great for Christmas.
Choose a sweater in your size, we'll leave the oversize for another occasion.
Let the sweater be the only Christmas clothing that will be part of your look.
With basic clothes better than with fancy and arranged clothes.
For the bag to go with it, choose shopper or backpack.
For the shoes, if you want a sure shot, bet on ankle boots or sneakers.
Now, yes, we are ready to go to the batch of ideas of the day, we hope you will like them a lot!
Ideas and Style Tips on How to Perfectly Combine a Christmas Sweater
Christmas sweaters dress up a lot, however, they are usually not everyone's favorite clothes, among other things, because it seems to be very limited when it comes to combining. If you don't want to be bold but not boring either, the best thing you can do is get inspired by the ideas we show you below.
Wear Your Christmas Sweater with Jeans and Black Ankle Boots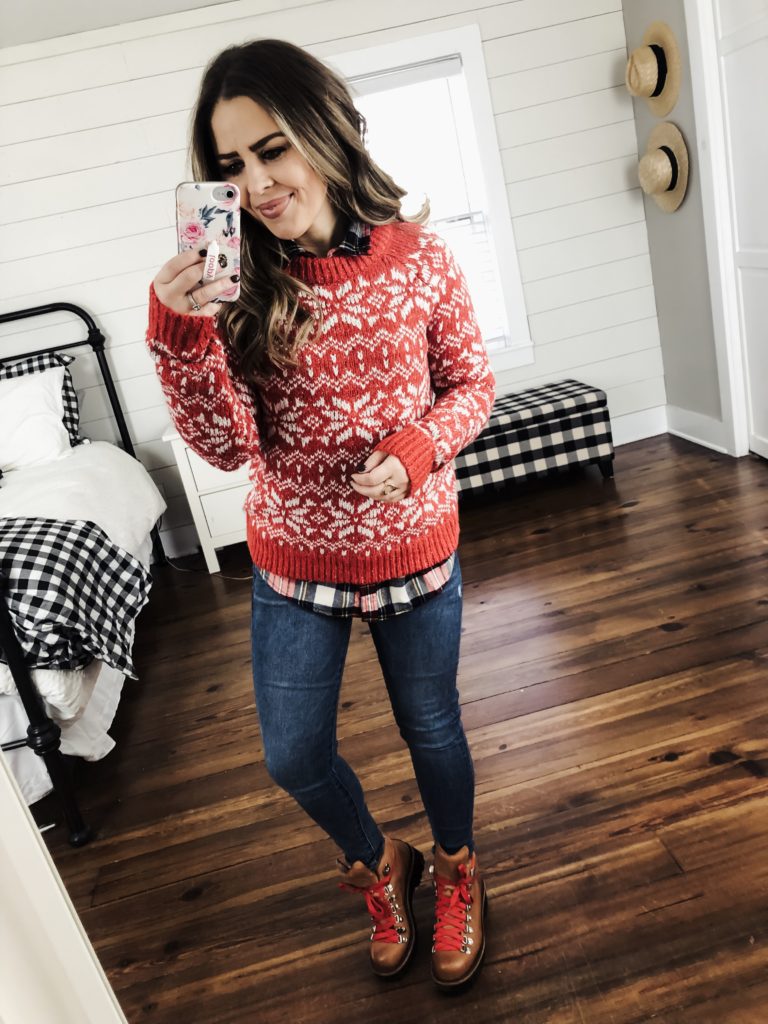 Basic clothing such as the usual black booties we all have in our shoe closet and the jeans we wear every day, are some of the best clothes out there when it comes to combining a Christmas sweater and creating a casual, urban look. If your sweater is very conspicuous because of its colors, it is best to reserve this style for your leisure, to go to the office we will put a simpler one.
If It Is Long, Wear It with Leggings
Black or brown tights or leggings, of course, the Christmas sweater that you love the most but is as long as a short dress . These types of combinations are perfect for the usual ankle boots or, failing that, a closed shoe with a square heel. If you want, you can add a simple piece of jewelry with a little sparkle, the occasion and the moment deserve it!
Green Sweater and Brown Skirt
If yours are bright, vibrant and striking colors and at Christmas you can't miss the opportunity to wear them at any time, then we suggest you wear a sweater in a beautiful green color (it can have a Christmas tree print) and mix it with a burgundy skirt.
Wear Your Favorite Sweater with a Shirt Inside
You can wear this outfit to the office every day of the week. Dark pants that are not very dressy (put aside the suits), the Christmas sweater we talked about, a white shirt with a classic collar to put closed shoes inside the sweater, the same ones you use to go to work more than once a week. You already have your perfect look for this Christmas!
All those tips sound amazing right? So why wait? Follow them to slay the Christmas sweater look this season! And if you want more ideas, come back to check the second part of our article.