We are now ready for another wedding-heavy season after two years of hesitation (due to the pandemic). Perhaps it has been busier than ever, with many weddings being postponed. Are you one of the lucky ones getting married, but buying the latest wedding dress is still on your to-do list? Then take a look at the wedding dress trends for 2022!
Of course, you don't have to stick to these trends. If you dream of that princess dress or always see yourself in a mermaid or trumpet style, go for it! The same applies if you have to follow the traditional wedding customs of Ethiopia, Japan, or Indonesia, for example. However, these trends should inspire you to make your wedding dress a little more "you"!
1) Corsets
Corsets are not only a trend in our outfits on the street; they are also a hot item in bridal fashion. A corseted wedding dress is naturally part of the dress itself, creating a chic and sexy boudoir vibe.
2) A Sustainable Option
After the special day, wedding dresses often become fodder for the wardrobe. Too bad! For this reason, brides often opt for vintage items that have been worn before or choose a look that can be worn again after the wedding. For example, a nice white suit or a midi or mini dress.
3) High Necklines
If the hem of the wedding dress is shortened, the length at the top is lengthened. High necklines are all the rage in 2022. Balance it out by adding a high slit to the skirt or a halter style with the arms out.

4) Color is the New White
While virgin white remains the most traditional color in many parts of the West, brides in countries such as Ghana, China, and India know how to add color to their weddings. Now it's your turn to introduce yourself. Show yourself off in pastel shades or a dress with a subtly colorful print.
5) Mini Wedding Dresses
Speaking of mini dresses, we are seeing more and more of them. It may not be for brides getting married in a church, but for less common brides. Besides, short dresses don't necessarily have to be for parties. Pair it with a beautiful lavish veil, fascinator, or long gloves.
6) Lace Wedding Dresses
The majority of wedding dresses already consist (partially) of lace, but in 2022 we can expect to see an increase in lace wedding dresses. Lace dresses are often decorated with beautiful embellishments, including floral decorations.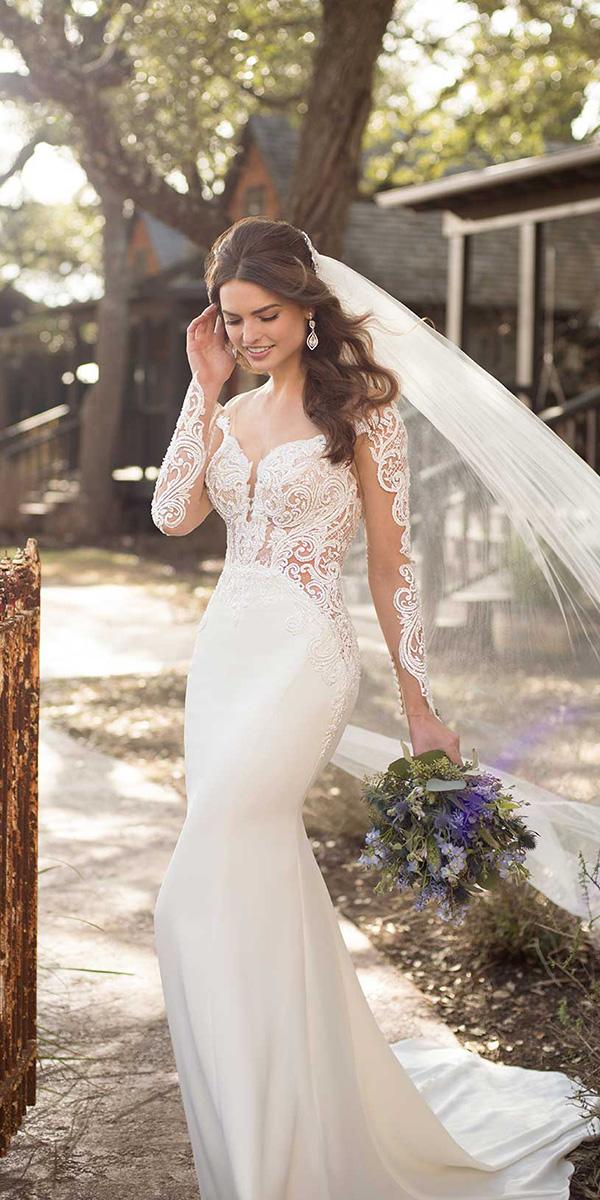 7) A Second Dress
We stopped for two years and moved all of our save the dates, but now we want to get out on the dance floor! There has always been a trend for the bride (and groom) to change between the ceremony and party, but after the global pandemic, the desire to get out on the dance floor has doubled. As a result, the second party dress (or mini-dress after the wedding) is likely to be in even greater demand this year.
8) Off-the-shoulder Wedding Dresses
We started to see an increase in 2021, but in 2022 we will begin to see off-the-shoulder wedding dresses more often! This combination of strapless and sleeveless wedding dresses is perfect for brides who are proud of their collarbones! Winter, summer, spring, or fall, off-the-shoulder wedding dresses are perfect for all seasons as you can choose drop, 3/4 or long sleeve models! Then select your favorite fabric, and your dream dress is complete.
What's your favorite style in wedding dresses? Let us know in the comments below!