One of the absurd laws of fashion is that what goes out will come back someday. The revival of the 60's, 70's and 80's has already passed, and now the 90's are back in fashion. It's time to ditch the skinny jeans and opt for mom jeans!

What Are Mom Jeans?
What we now call mom jeans are jeans that were in vogue in the 90s (and 80s). Don't worry; mom jeans don't necessarily look like you're dressing up as a mom.
If you've been wearing only skinnies, it's time to switch to mom jeans! Mom jeans are a straight-legged, high-waisted, loose model. The big advantage is that they are super comfortable. The stiff, durable fabric with no stretch is another feature of this model. These pants are also ideal for hiding your belly and flattering your curves. In general, mom jeans are the pants that every woman dreams of.

How To Style Mom Jeans?
Basics: White T-Shirt and White Sneakers
Mom jeans are an outfit that can be combined with white sneakers. In fact, mom jeans look better with white sneakers than skinny jeans. Just throw on a white T-shirt, and you are done! It will make you look radiant. Great comfort and fashion.

Getting Ready for Work in Mom Jeans
Shake up your office look with mom jeans! Pair the pants with a white blouse and blazer. Depending on your office dressing needs, you can wear mom jeans with ankle boots or pretty pumps.

Comfortable- Pair With a Jumpsuit
When the weather turns to autumn, you can wear your mom jeans with a comfortable jumper or hoodie. The combination of baggy jeans and a jumper promises a great outfit. You can also choose a nice bag or belt as accessories to break up the look. Of course, you can also add sneakers to this combination.

Party, Party, Party with Mom Jeans
Mom jeans are also suitable for parties. Of course, you can add a lovely lace top and high heels to your pants to make them more glamorous for the party. Add some stunning jewelry, and your outfit will be the star of the show!

Wear It With a Trench Coat
You can successfully combine a long trench coat with mom jeans during the rainy and cold seasons. If the weather is nice, you can even leave your trench coat open. You can pair it with a shirt with a graphic pattern or nice text and high-heeled shoes to make it look more fashionable. This way, you can look chic while staying warm and dry.

Pair It With a Buttoned-up Shirt
One of the easiest ways to dress up mom jeans is to tuck in a button-down shirt. A loose-fitting shirt with a slightly crooked collar and heeled sandals creates a lovely vibe that doesn't look stuffy.

Accentuate Your Figure With a Bodysuit
It's essential to wear clothes that look good and are also comfortable. Pairing mom jeans with a bodysuit is precisely the kind of look that inspires confidence. It flatters your figure and, at the same time, allows you to layer up.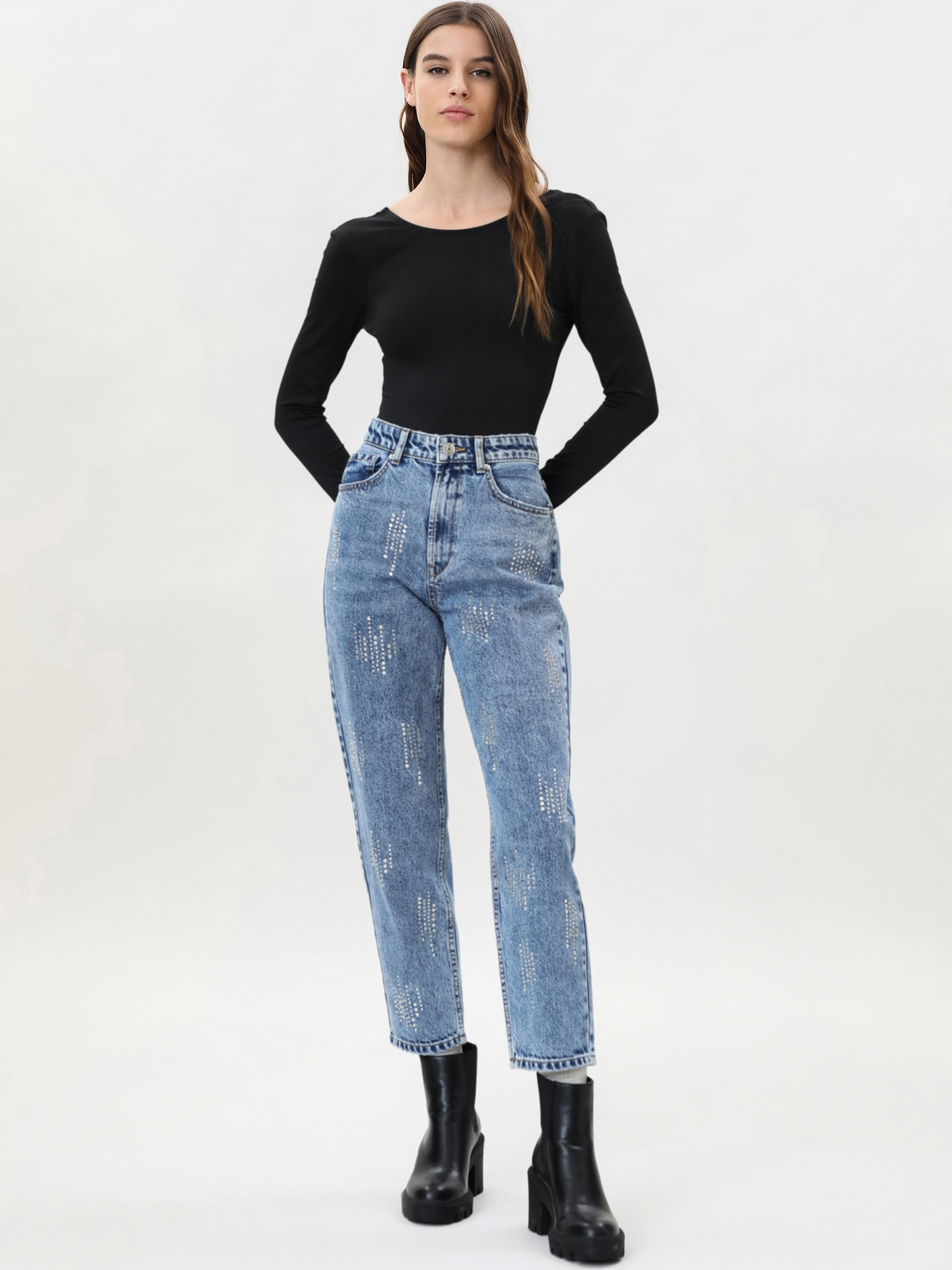 Wear Black Mom Jeans
Versatile and fun, black denim outfits have become a staple in every woman's wardrobe. Complete a relaxed look with a stylish edge with black mom jeans. Somewhere between classy and rebellious, black mom jeans are sexy, modern, and streamlined for a perfect ensemble. Add a tonal black leather jacket and studded accessories for a bold look. To dress it down, pair your comfy jeans with a simple white t-shirt and matching sneakers.
It is now clear what mom jeans are and that they are the ideal pants for every woman. You can wear mom jeans for any occasion. How do you like to style yours? Let us know in the comments below!