What we are experiencing now is undoubtedly the golden age of streetwear, the golden age of any garment that is both comfortable and stylish at the same time. Many sporty items have found their way into our wardrobes and our hearts. In a short period, the sweatshirt has risen to the top of our wish list and, surprisingly, has become one of the essential vital pieces to bet on.
But while the idea of wearing it outside of the usual sportswear rationale tickles our fancy, it is still often a bit difficult to put together a slightly different look with the sweatshirt as the star of the show.
We present some easy-to-follow looks to help you do just that! Whether you prefer a casual look or are looking for a twist that will dispel the boredom of the classic suit, you will find that the answer to your desires is always the sweatshirt! She is the majesty of coolness, and that is the sweatshirt.
How To Wear a Sweatshirt: With Jeans and Ankle Boots
Let's start with the most basic of basics: sweatshirt and jeans.
If you're going for an off-duty style that's perfect for Saturday morning shopping or Sunday strolls, you're in the ideal place.
Choose a comfortable hooded sweatshirt, and pair it with a pair of slightly slim-line, mom-fit jeans. For a special touch, add metallic low-heeled ankle boots and a long coat that radiates cool in every fiber of its being. You now have an urban look for a weekend stroll around town!
How to Wear a Sweatshirt: With A Shirt and Palazzo Pant
Wearing a sweatshirt with palazzo pants indeed ensures its role in a strict outfit and softens the overly classic mood. One of the coolest ways to wear such an outfit is by opting for a classic white shirt and sweatshirt combination. Choose a shirt in a masculine cut and layer a soft cashmere and a tonal sweatshirt to make the collar and cuffs stand out. Finish the look with a pair of classic palazzo pants and slightly bolder moccasins. You can't go wrong with such a look!
Wearing a Sweatshirt: With a Leather Midi Skirt
Take a couture sweatshirt with attitude as the star, like Gucci's printed sweatshirt. What items do you pair with it to create a fashion week-worthy look? Easy: play with clothes and accessories that can balance with the soul of this streetwear and be daring. It is certainly not news that the most successful outfits work in contrast. A peek at the Instagram of the coolest fashion influencers will tell you that. For instance, a slightly oversized sweatshirt paired with a midi pencil skirt (in leather or shiny material) is a unique combo in its own!
How To Wear a Sweatshirt: With a Suit
If chosen with the right nuances, a comfortable and chic look already suggests cooler temperatures. It is a combination of a pantsuit, a sweatshirt, and a hood peeking out from a blazer. What do we like about this "odd pair"? The obvious fact that opposites attract! He is sartorial and classic, she is casual. Sophisticated for him, fresh and girly for her.
Choose a slightly oversized blazer and high-waisted pants version in a fresh, somewhat new shade and pair it with a hooded sweatshirt in a contrasting shade. Finish it off with colorful trainers, and you are ready to conquer the city!
Sweatshirts & Sequins
Finally, we'll conclude this "fashion roundup" by composing a glamorous look that is party-ready (or you can be a party girl in your living room), with sweatshirts as the show's star. Just a few pieces are all you need to impact the scenery strongly. Choose a clean, slightly oversized fit in a crew-neck model and opt for shades that come straight from the latest fashion palette. Sweatshirts make a coordinating look lighter and even more incredible.
If you choose a sequined pencil skirt and slingbacks for heels – maybe a slightly geometric, contemporary cut, your whole look will be perfect. And the extras? A dab of lipstick and a significant piece of jewelry, such as exquisite gold earrings, and you'll be saying, "Wow!" The effect is astonishing.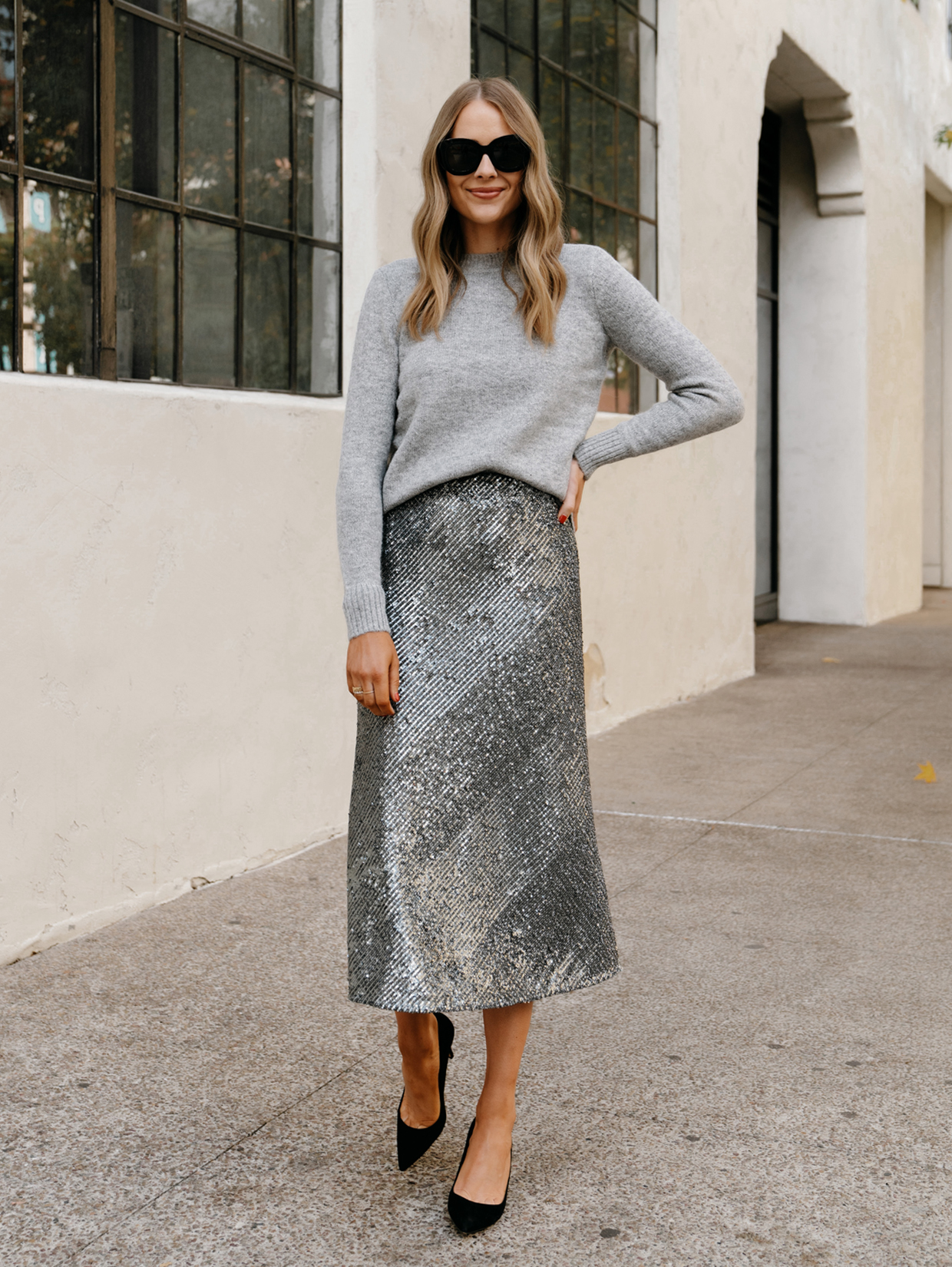 How do you like wearing your sweatshirt? Let us know in the comments below!