The sun is shining, the temperature is rising, and you're wondering if you should physically go back to work. That means ditching the loungewear and athleisure and dressing appropriately. But how can you do that when you're sweating like a pig even in just one layer of clothes? You choose something light and breathable like linen!

What is Linen?
Linen is a fabric made from the fibers of the flax plant and has unparalleled breathability. Originally produced in Egypt, only royalty and priests wore linen at a discount.
Fortunately, you don't have to be a pharaoh to wear a linen summer wardrobe today. Linen clothing is moderately more expensive than cotton because of the high production costs and limited quantities available.
How to Wear Linen?
Given linen's feel, absorbency, breathability, and availability, you should give it a try. Here are seven ways men can wear linen comfortably and stylishly.

Classic Blue Linen Shirt
This shirt is made from a blend of cotton and linen for a comfortable, classic look. It can also be worn over boxer shorts to attend an impromptu zoom meeting. Pair the simple silhouette with white or beige pants for a cool, relaxed look.

Off-White Shiny Linen Trousers
Off-white linen pants are as important as black, yet often underrated, and look great on men. They have a relaxed look and are perfect for business casual wear.
Pair them with a white linen shirt and trainers. Alternatively, off-white linen pants can be paired with your favorite pastel kurta for a more traditional look.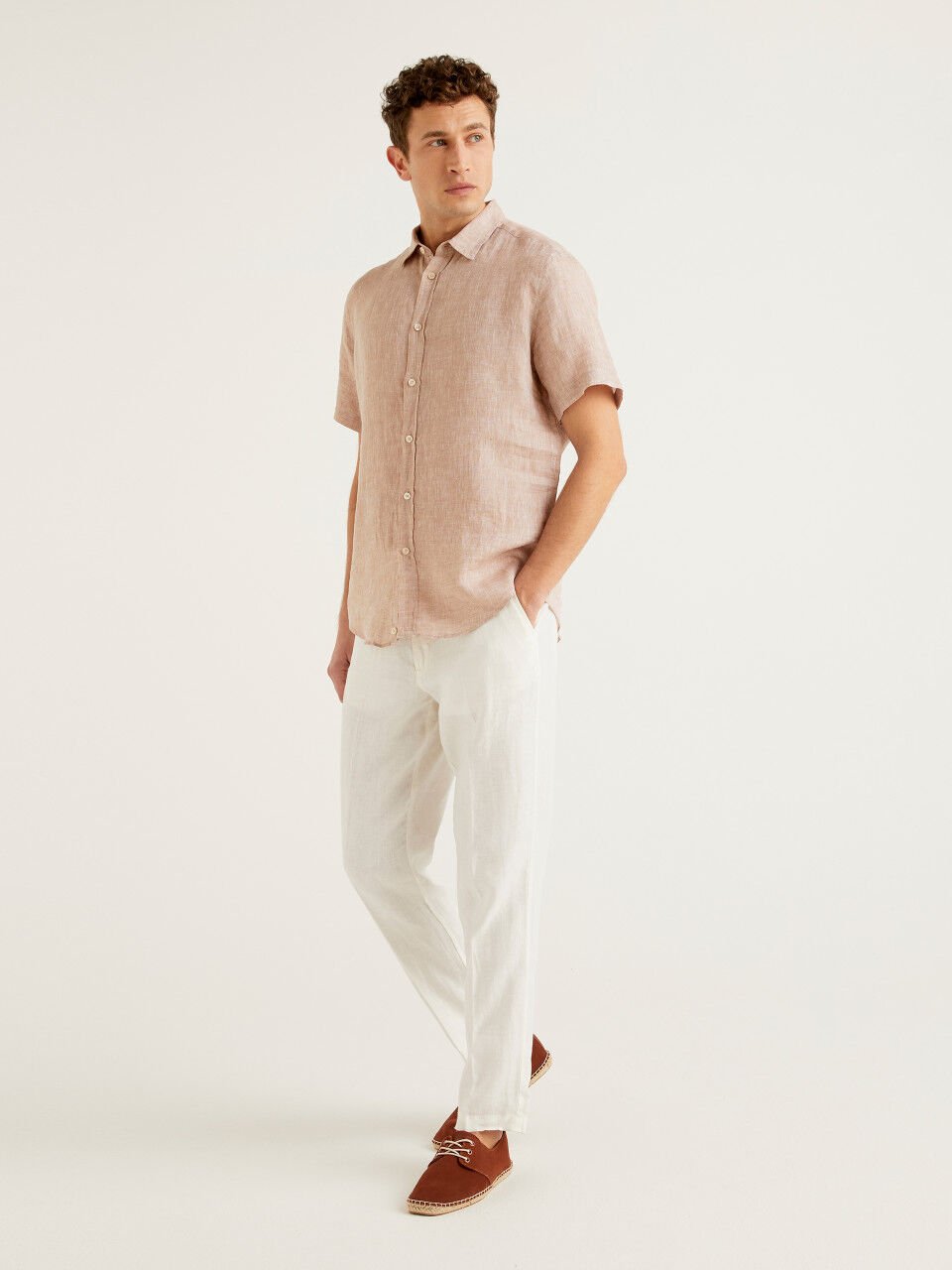 Classic White Linen Shirt
Again, the white linen shirt is a must-have in the wardrobe of men who prefer sophisticated looks. A favorite among men, this shirt is generously sized to fit comfortably on the body.
Pair the classic shirt with black cotton pants to keep the look fresh and clean. For a bolder look, pair it with boots or any other shoes for an eclectic and luxurious look.

Must-Have Black Linen Pants
Linen fabric is a must-have in every man's wardrobe, and you may want to get your hands on these for a luxurious comfort experience. With a contemporary silhouette, these pants are versatile. Cut only at the ankle, they are perfect for daytime or evening wear.

Roll up the Sleeves of a Linen Shirt
Linen shirts should be relaxed but not too loose. Roll up the sleeves of the shirt to give it a casual look. You can also match a light-colored shirt with dark-colored pants to give structure to your outfit without sacrificing comfort.

Linen Shirt With Jacket
All of the shirts introduced here go well with any type of jacket. However, there are a few rules when it comes to pairing them with jackets, the main one being whether to tuck the shirt in or not. Neither is wrong, but we recommend tucking it in for business occasions for a more elegant and complete look.

The Perfect Shoes Under Linen Pants
While we say the perfect shoe, the truth is that as long as you linen clothes, you can go in any direction. Stick to a style of shoe that suits the occasion and, above all, that you feel comfortable in. To add an accent to your coordinate, you can even try suede boots in casual leather colors.

Layer up for Cooler Weather
Pair linen pants with a V-neck cardigan or denim jacket on cool spring or fall days. This combination will keep you cool during the day and comfortable when there is a slight breeze.
How do you style your linen clothes? Let us know in the comments below!