Summer is almost here and temperatures are rising. This is an excellent time to review your summer wardrobe. And while we're at it, let's take a quick look at bikinis and swimsuits. Are you still happy with your bikinis and swimsuits, or do you need to replace them? If so, you probably want to know what swimwear trends you can invest in this year. You are probably starting your search for the best bikinis and swimsuits to jump into this summer.
The good news for you is that you have a lot of choices. What's more, many of this year's swimsuits and bikinis are multi-purpose pieces for your holiday wardrobe, thanks to the stylists and designers who showed us at the Summer 2022 fashion shows that swimsuits and bikinis can be worn with "everyday" clothes.
Enough with the inspirations. Here are some of the most beautiful examples.
1) Cut-out Swimwear
In addition to the numerous tops and dresses with exciting peep tops in the front and beautiful necklines in the back, the trend continues with swimwear.
While initially being a swimwear that will leave you with the best tan lines, it can also serve as the ultimate holiday wardrobe all-purpose swimwear. How? Most swimsuits double as evening tops. Just put on a skirt, adorn your ears, slip on a nice pair of heels, and voila, you're ready to go.
2) Ribbed Bikinis
The trend this time is not the swimsuit's shape or print, but the fabric type found in almost every bikini and swimwear collection. Seersucker is a thin, wrinkled fabric whose texture gives it an expressive look. You will see a lot of it this summer.
3) Tankini
How nostalgic we all are. We immediately feel like happy kids who went to the beach all day and skipped around building sand castles in tankinis. In 2022, these fun tops will appear primarily as bandeaux. Perfect for when you want to hide a little more but still look fashionable.
4) Bikinis With Strings Around the Waist
Introducing a trend that promises to do exactly what it says. Croptos, skirts, pants, or even bikinis use thin straps that wrap around the waist one or more times. The resulting beautifully ripped detail makes the bikini more exciting and also creates an attractive tan line.
5) Animal Prints
Leopard print is one print that will never go out of style in your wardrobe. This animal print, as well as cow spots and tiger and zebra stripes, are the hits of the beach this year.
6) Inverted Triangle Bikinis
An instant style trick already pioneered by models Bella Hadid and Kendall Jenner a few summers ago. It takes a bit of knot art, but when you do, you'll see what we mean.
7) Bikinis With Soft Molded Cups
This year, the molded cups are reminiscent of Ariel's iconic shell dress from The Little Mermaid. These cups are often not attached to each other, leaving some space between the breast. The result? A bikini that offers comfort and exciting looks!
8) Bikini With Skirt
This year's three-piece swimsuits will feature "swim skirts," small mini-skirts that are worn over hipsters or bikini bottoms. The added bonus? It is very practical. If your swimsuit has a built-in or matching skirt, you won't need an extra garment!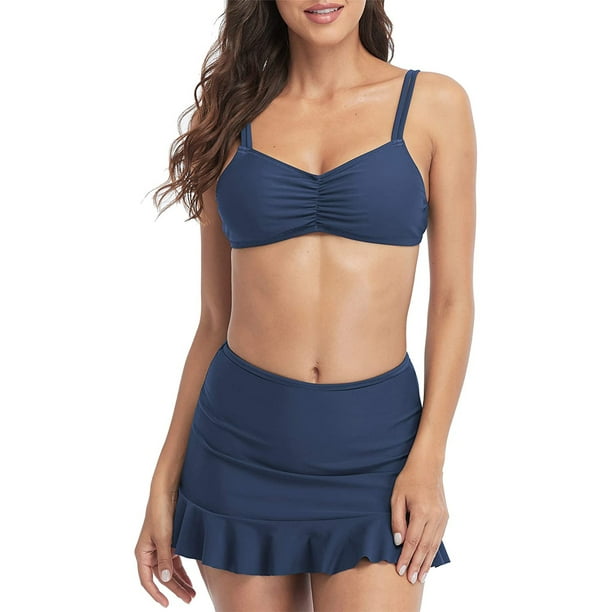 9) The Crochet Bikini
In 2022, crochet clothing is back in vogue. In addition to bucket hats, tops, pants, and bags, crocheted bikinis will shine on hot days!
Which among these types of bikinis will you opt for this summer? Let us know in the comments below!