They have never gone out of fashion, and it has become a major trend this year. Knit dresses are loved by many, especially for their comfort and versatility. But, how to wear and style your knit dress? Here are some tips to help you out!
Comfort
Comfort first. This motto has permeated the fashion world since the beginning of the pandemic and is reflected in this year's collections. It's also why soft knits are one of the most frequently used materials. In stores, we often see short tops and cardigans made of soft knits and midi-length dresses.
Trends in Knitted Dresses
Most of this year's knit dresses are mid-calf or above the ankle length. These can be worn casually with sneakers or with heeled sandals or boots on cold days and nights. These knitted dresses accentuate the silhouette more, and the cut is more like a classic bodycon dress.
In addition to a fitted cut, the dress will often be enhanced by a deep square neckline or a sexy, sophisticated cut at the neckline and ribs or across the back. Also, if you choose a model with buttons, don't be afraid to try the variation of unbuttoning half the buttons and using it as a long cardigan, and then wearing knit pants with it!
Knitted Dresses for Winter
And how to wear knitwear when the temperature drops drastically? Throw on an oversized jacket or a long, straight-cut coat, and you'll have a completely timeless and chic outfit!
Another option, of course, is ankle boots. You can also add a little Scandinavian flair to your lace-up shoes by wearing them with knit outerwear. Then, throw on a stylish jacket or jacket over it, and you will never feel cold.
For taller girls, it is advisable to wear short woolen dresses that highlight the legs. For shoes, opt for high boots or socks. Another option is a floor-length knit model with a slightly slimmer figure. On the other hand, medium-length dresses are suitable for almost all body types, and the length can be to the knee or even shorter.

Knitted Pencil Dress
For businesswomen who are conscious of their appearance, a black or grey knitted pencil dress is ideal. Combined with classic pumps and a genuine leather bag, it creates an elegant corporate image relevant to any situation. If one does not have a very pronounced waist, a belt that can be narrow or wide can also be worn.

Tight Knitted Dress
The most popular version of such products is a tight-knit dress, emphasizing all the owner's silhouette's shapes, curves, and roundness. However, it also requires a careful selection of underwear – since it directs the attention of others to specific nuances, particularly the contours of panties and bra. For this reason, it is good to give preference to a seamless or corrective set that is not noticeable through the thin knitwear.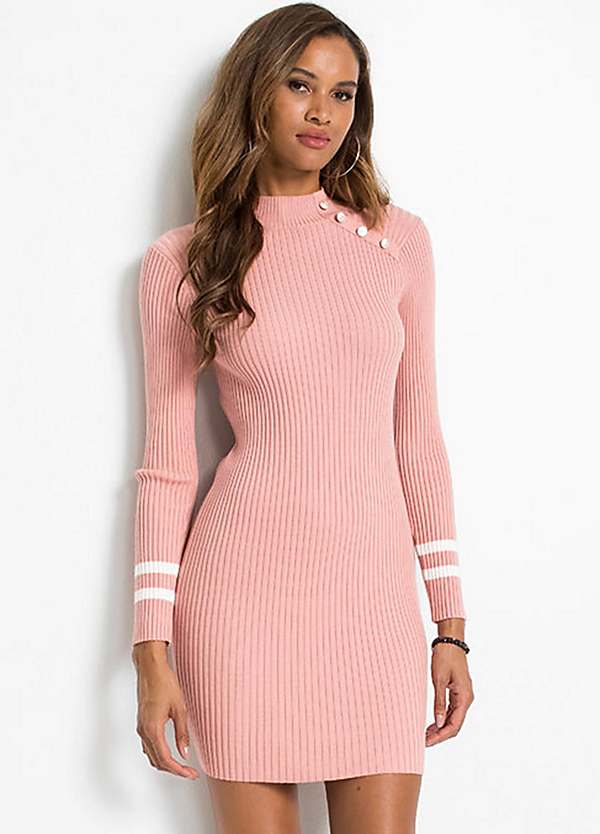 Lace Knitted Dress
Although, in general, women's knitted dresses are designed for everyday use, some designers make them elegant, making them wearable for a party. To do this, it is combined with other fabrics, decorated with embroidery, applications, rhinestones, cuts, or lace.
The latter can make even the simplest black knit dress luxurious and irresistible. Depending on the designer's imagination, such a product can have gorgeous lace inserts or be embroidered with this beautiful material all over the surface.
As you can see, today, there are various models of knitted dresses, from which every woman can choose something for herself. They can be of any length, from ultra mini to a beautiful flat version, in bright or faded colors, etc. Depending on the individual preferences of the fashion designer and the peculiarities of a person's figure, we can now even find certain varieties that mask problem areas.