Denim skirts are in most people's wardrobes, but they are often in the back. This is because all variations of the denim skirt (i.e., mini, midi, and long) appeared on the catwalks for Spring/Summer 20 and Fall/Winter 20. For example, Celine presented a midi-length skirt with boots, while Givenchy presented an ankle-length frayed version. Slits, patchwork, and vintage silhouettes were all part of this season's upcycled vibe. But how do you wear that denim skirt as easily as you wear your favorite pair of jeans in 2022? Pay attention to proportions, mix and match materials, tuck a jacket or blouse into the skirt to accentuate the waist, or let it all hang out to create a boxy silhouette. We are here to help you find your way!
Mini Denim Skirts
The denim miniskirt is one of those items that you just don't know how to wear every day. The key with this short variation is to keep the outfit balanced and know what kind of clothes to best match the mini with. Showing your bare legs is fine, but you can use longer boots or a thin knit jumper for contrast.
Frayed Denim Skirt
For a variation of Frayed & Ripped, you also need chunky trainers. It gives a sporty look to sharp rips and frays.
Lightweight Denim Midi Skirts
It is essential to pay attention to proportions, especially for long denim skirts. Now is an excellent time to emphasize the waist with a demi-tuck, but you can also drape an oversized blouse to create a square silhouette. Adjust your footwear depending on the season. If you choose something a little tougher, go all out.
Long Denim Skirts
A denim skirt that goes on forever (almost kissing the ground) can cause quite a few style struggles. The reason: thicker fabric, less nudity, and the old-fashioned schoolmarm mindset that lurks as a result. Combine a skirt with a slightly harder material, such as a leather jacket, belt, high pumps, or top, and show some cleavage, and you have the chic 70s look!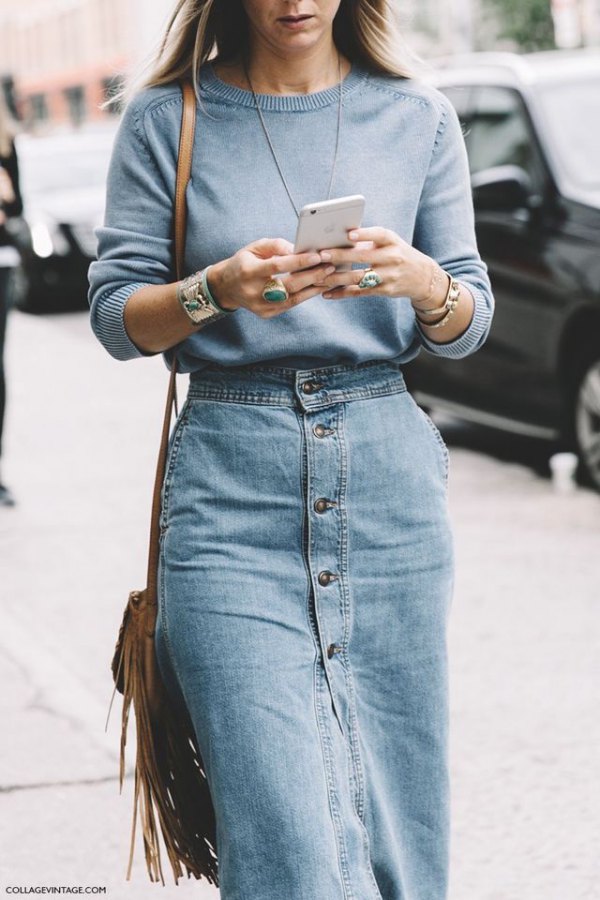 Midi Denim Skirts With Slits
Again, skirts that are a little longer require special attention to the silhouette. Feel free to combine bold materials here. A leather jacket goes well with a slit midi skirt tucked inside so that the waist is visible. You can also enjoy tucking in a light coat or blouse in the summer.
Two-Tone Midi Skirts
Midi skirts were the most common skirts seen on the catwalks last year, often with a slit in the front and colors ranging from bleached denim blue to duo-toned. Look for upcycled ones in vintage stores, and you'll find the perfect addition to your capsule wardrobe. Wear it with a moderately relaxed top. This skirt length and strappy sandals are the way to go for summer. Try pairing it with a colorful shirt, a long coat or cardigan, and high socks or leggings. In this way, even after the beach days are over, you can wear them until fall.
Gray Wash Denim
Of course, you don't have to settle for blue denim; you can start with a washed denim skirt or the popular tie-dye pattern. This way, you can make a long skirt, which is usually quite neat, look more grungy.
A-line Denim Skirts
A-line mini-skirts look great, as they don't require complicated styling and are like jumpsuits. Since most of them are a little wide, a fitted jacket will give a crisp silhouette. Pair it with knee-high boots, and you're all set!
What type of denim skirts do you prefer? Let us know in the comments below!