Pants are an essential part of your wardrobe, and the key is to choose the best model for each silhouette. However, choosing the best pants for your body type is often daunting. Not all models fit different body types equally, and selecting the suitable model requires you to be aware of your own body. Here is a handy guide to help you buy pants that fit your silhouette!
How To Choose Pants for Your Body Type?
Each of us has different models of pants in our wardrobe. Some of them we wear a lot without knowing it because they improve our body shape, our style, and the shape of our hips.
There are mainly five types of body shapes: pear, apple, rectangle, hourglass, and oval. Apples have a slightly accentuated B side and usually have slender legs, while pears are thinner in the upper body than in the lower body. On the other hand, rectangles have a slightly emphasized waist, hourglass shapes have proportions with a very accentuated waist, and ovals have a weakness in the stomach that can divert attention from it.
By keeping these essential characteristics in mind, you will understand which body type you belong to and choose the kind of pants that best suit your body.
Hourglass Body
The hourglass body is extremely feminine due to the relationship between the shoulders and hips, especially the waist. Models that are too thin run the risk of making the legs too short and emphasizing the curve of the hips. High-waisted pants, especially flared or boot-cut models, are best to accentuate this.
Pants for Ovals
People with an oval body shape have proportionate shoulders and hips but generally have a more pronounced and softer stomach. To emphasize this type of body shape, choose basic pants with straight lines, such as cigarette pants, preferably one that does not have a zipper or buttons and pockets on the front and one that gives volume to the blouse or T-shirt underneath. Choose those with side zippers, and avoid flared or cone-shaped ones, as they make the whole outfit look heavy.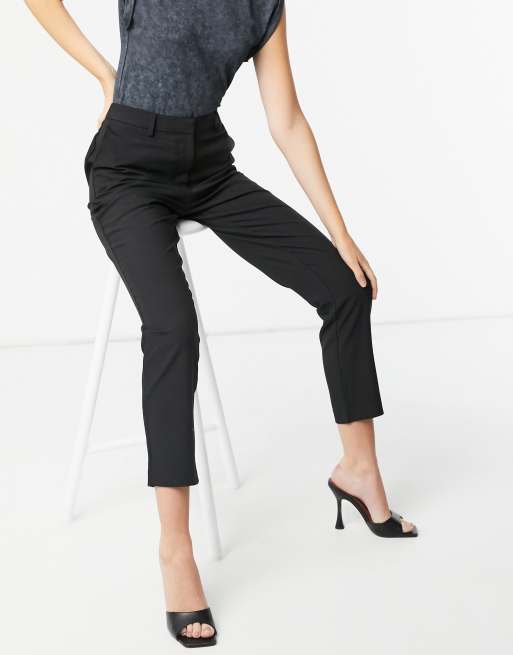 Rectangular Body
A rectangular silhouette emphasizes the waist a little more. To make it look more feminine, you can wear baggy pants or other pants that accentuate the waist. In general, rectangular pants look good with most styles. The only models that do not match this physicality are those with a very low waist – which risk optically shortening the legs – and the flared ones, which create an excessive imbalance with narrow hips.
Pear-Shaped Figure
The pear-shaped silhouette, like the hourglass, has a very defined waistline, but the lower half of the body is dominant over the upper half. In general, the hips and buttocks are very much emphasized. High-waisted palazzo pants are ideal for making the figure appear lighter and slimmer. It is especially good to choose those with darker patterns or vertical stripes.
Pants for Apple-Shaped Figures
With an apple-shaped body, you usually have the advantage of thin, slender legs. The upper body is much fuller and wider than the lower body. The best pants for this body type are skinny, very tight cigarette pants.
Pants for Petite Figures
If your legs appear shorter than your torso, you need to "manipulate" your center of gravity (in this case, low) to make your waist optically higher. To do this, just play with proportions: choose strictly high-waisted, plain pants, preferably palazzo or flared. And if you do not want to give up shorts or Bermuda shorts for the summer, do not worry. In this case, too, it is enough to focus on high-waisted models to slim the silhouette.
Let us know if these tips have helped you make your choice in the comments below!