Underwear is becoming more sustainable and green, with organic cotton, recycled nylon, Tencel yarns, bamboo, vegetable silks, and more. But why is it important to shop sustainable and eco-friendly? Because underwear is an essential part of our wardrobe and its function is truly our "second skin. They are so close to our most delicate parts, and we need high-quality, breathable materials that are as sustainable as possible for our bodies and the planet.

Sustainable Fabrics
The options for green materials and fabrics are much wider than you might think. Firstly, there's organic cotton, which is one of the most widely used and well-known natural fibers.
Tencel and Lyocell, like viscose, are ecological materials obtained from eucalyptus trees and are very fresh and light, making them ideal for the warmer months. They look very similar to linen but are more absorbent and lighter. Moreover, it is super soft to the touch.
Modal, on the other hand, is similar to viscose but is made of fibers from the beech family.
Not only that, but some bamboo fibers are FSC (Forest Stewardship Council) certified, which certifies that they are of natural origin.
Then there is Econyl, a recycled nylon made from plastic from the ocean floor.
Elastane and spandex are synthetic fibers of polyurethane, which are responsible for giving garments elasticity.

British Brands
The United Kingdom is one of the most active countries regarding eco-fashion. In fact, many brands produce eco-sustainable clothing, even in the underwear field.
Here are two examples:
Lara Intimates: tulle non-wire bras, made from the waste of a significant company in the British underwear industry. The brand is exclusively for women, and its strength is inclusivity. Many sizes are available to accommodate all body types.
Pico: A small collection of underwear made with organic cotton and 5% elastane and dyed naturally and sustainably. The collection is minimalist yet shows excellent attention to detail. The colorants are preserved and natural, obtained from plant extracts. A brand in harmony with nature.

U.S. Brands
Pansy
An American brand in everything. Cotton is harvested in Texas, processed in North Carolina, and sewn and designed in California. The essential line uses a lot of glittery, bright colors to get closer to the younger age group.
Proclaim
This Californian brand aims to clean up nudity. It is an essential, minimalist, no-frills line inspired by the different shades of brown and beige skin tones.
CASAGiN: 100% Made in Italy
CASAGiN is a wholly made in Italy brand, using eco-sustainable and biodegradable natural materials with a very low environmental impact, minimalist and simple lines, all produced in and shipped from Italy. They work with selected small Italian companies and collaborate with local realities.
European Brands
Under Protection – Denmark
This company was created in 2010 and is a "B-certified company," that is a "responsible balance of good and profit" company, using recycled synthetic fibers. The collection ranges from pastel colors to sensual tulle and lace.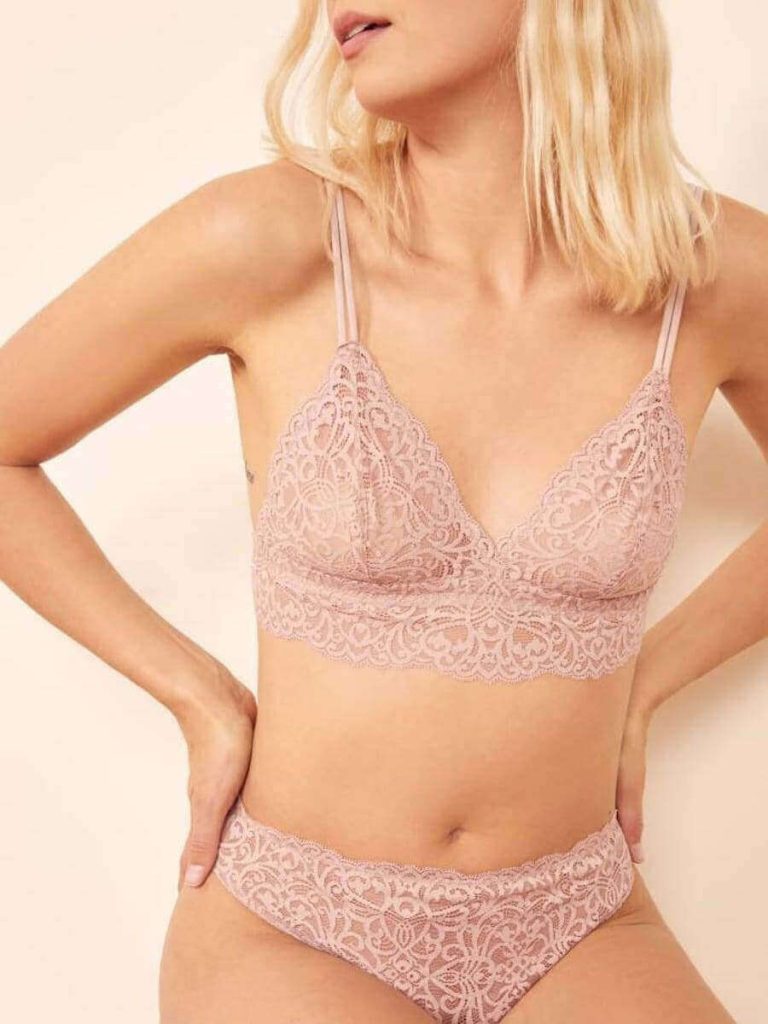 Nago – Poland
Minimalist design, with materials of ecological and sustainable origin. These collections are delicate and sophisticated.
Knickey
This brand is committed to recycling and bringing attention to the harmful chemicals and toxins in the synthetic fibers used by underwear manufacturers. The underwear is made from organic cotton, contains no toxic chemicals, and is available in various essential and limited edition colors. In addition, Knickey will take your old and unwanted underwear and recycle it, so it doesn't end up in the landfill.
Summersalt
Summersalt underwear is comfortable and cute, with simple silhouettes. The feel-free line offers lingerie in various shapes, including thongs, briefs, and bralettes, all made from recycled plastic bottles.
Do you know about any other sustainable lingerie brands? Share it with us in the comments below!