In recent years, "ugly" Christmas sweaters, especially oversized and miniature sizes, have become a real trend. It's been called the graveyard of fashion. Years later, the trend is in full swing, with many brands in the fashion system, both fast fashion and luxury, creating authentic Christmas lines. Together, we can figure out how to combine sweaters as a strong ally for the holiday season!
What is an Oversized Sweater?
Oversized sweaters are said to be the leading garment for cold weather. It goes with almost anything you can think of right now. In fact, there are plenty of opportunities to wear it effectively without having to wrap it up like a blanket. The trick is to balance it with other tighter garments, although it will have the excessive volume at the top.
1) For Her, for Him, for Everyone!
What makes the oversized Christmas sweater unique is its incredible versatility and the fact that it is a unisex garment. For him, for her, for them: they appeal to everyone and can be interchangeable!
Not only can they be worn with various outfits, but you can also pair it with a not-so-fashionable outfit and transform your attire into a stylish one.
The patterns, colors, and textures are endless. You can pamper yourself and have fun with your sweet half by wearing matching oversized sweaters. For women, just wear a nice pair of leggings underneath, or maybe a fleece for those who feel cold. If you want to be more adventurous, you could try boots and sexy tights. In addition to the crisis of not knowing what to wear, say goodbye to insecurity with a nice oversized Christmas sweater!
2) A Great Gift Idea!
Oversized Christmas sweaters are not only great to wear this time of year, but also make wonderful gifts for friends and family. They are perfect for many body types and can be adapted to one's taste and shape with the right accessories.
Moreover, it will add to the Christmas spirit in a heartwarming way.
For decades in the Anglo-Saxon world, Christmas sweaters from mothers and grandmothers filled the wardrobes of men and women of all ages. How could we forget Mrs. Weasley's jumper that she gives to her children and Harry every Christmas, or Bridget and Mark Darcy's really ugly jumper? There are so many such references in film and literature that seem mainstream now but were really unflattering and unforgivable at the time.
3) Comfortable Attire for a Casual Dinner
An oversized Christmas sweater will look great for any casual dinner you attend during the holiday season, whether it's an aperitif with friends, dinner at home, or lunch with relatives. Besides, for aperitifs with colleagues in cold and bright weather, sweaters are garments that can really save your life. And best of all, it instantly brings joy and cheerfulness to the wearer and those who see it.
4) Tuck it Inside
This is ideal when you want to soften the visual impact of an oversized jumper. Choose to wear it at the waist to emphasize the silhouette of the lower half of the body. You can also use a minimalist belt; if you don't want to take it in completely, you can just tuck it in the front only.
One thing is for sure: oversized Christmas sweaters are a must-have for the season. Many of you may think it's not a wearable garment, but it can be used for many occasions, and nothing stops you from wearing it home all winter long. Plus, it can be an inexpensive garment and fit the budget of many!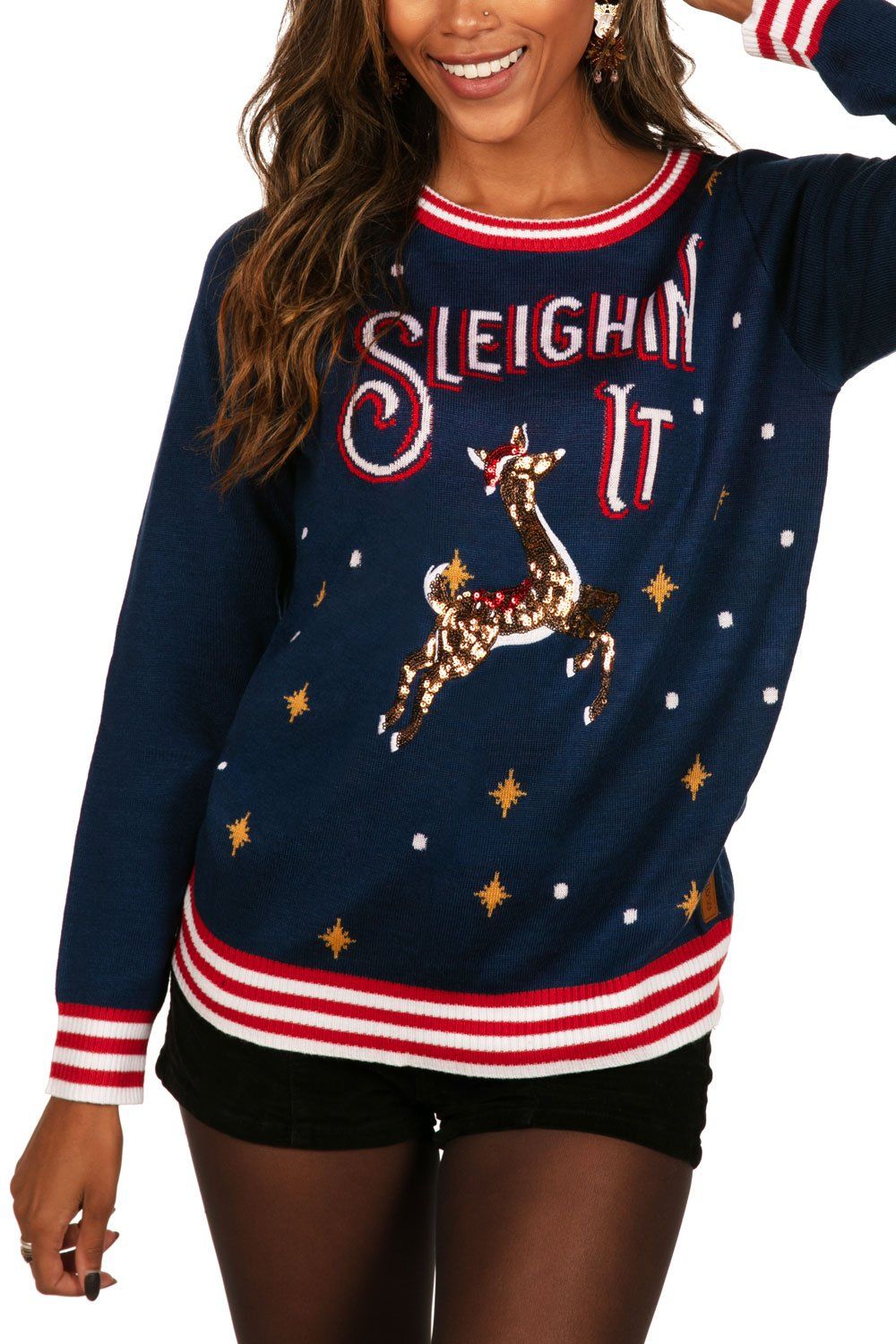 5) With Skinny Jeans
Or with straight pants, a long shirt, and a jumper worn over the shoulders. It also goes well with a scarf or handkerchief, so we recommend wearing it rolled up short.
Do you like wearing sweaters? What styles and combinations do you prefer the most? Let us know in the comments below!