Horizontal, vertical, colored, black, and white characteristics vary, but stripes are staples in our wardrobe. In fact, stripes are a great staple that never goes out of style, especially in summer. You can wear them on the beach in the summer, or in the city, no matter the occasion.
Depending on the combination, you can create various looks from casual to special occasions. It is probably no coincidence that fashion celebrities such as Gigi Hadid, Jessica Alba, and Emma Roberts love to wear stripes in their daily lives and for glamorous events.
So, in today's article, we're going to show you how to wear stripes in super trendy spring and summer outfits that are right up your alley. Are you interested in this subject? Then let's get on with the post!
Choosing the Stripes
The trick is to choose the best lines to complement your shape. Wide, horizontal stripes can make your body shape look larger, so they are best for people with small breasts or narrow shoulders, for example.
On the other hand, small, vertical lines can make you look slimmer, making them more effective when worn with pants, skirts, and long dresses.
Total Stripe
One of the ways to wear stripes as the main feature is the total stripe. In this case, a summer maxi dress, a jumpsuit, or anything with vertical lines would be even better.
Glamorous Look
For a chic and glamorous look, it is essential to "break it up" with accessories such as bags, belts, maxi jewelry, and hats, and contrasting garments such as jackets, blazers, and trench coats.
Stripes With Solid Colors
Stripes and solid colors are some of the most classic and seemingly simple combinations.
If you prefer a more casual look, such as daytime wear, choose a shirt, blouse, or plain t-shirt and pair it with a striped garment such as a skirt, pants, or jacket. Even crop tops are great, especially in the summer!
The most attractive color for plain garments is definitely white, which is ideal for highlighting dark, amber, or tanned skin. The standard black, beige, blue, and green are also excellent!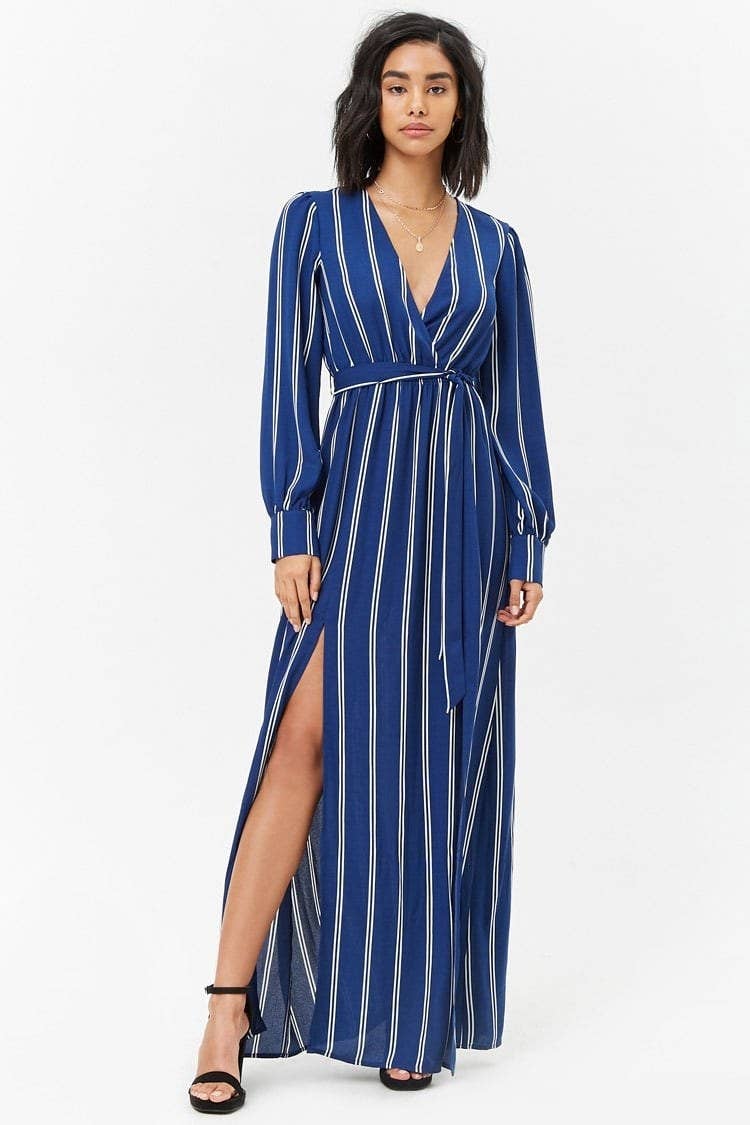 Subtle Stripes
A little subtlety can have a significant effect. Instead of putting stripes all over, try wearing stripes on the sleeves and hem for a subtle touch. Use ingenuity in placement and layout to create a design with a sense of fun and assertiveness.
Pants
Pants are an essential part of your outfit, so they really stand out—so long pants with stripes it is! Long pants with stripes are best paired with a simple shirt. Choose a shirt with one neutral color, not too many other prints. An eye-catching pair of earrings will help balance the look.
Tip: Are you short? Then wear pants with thin vertical stripes. Wider stripes often make you look shorter. Narrow lines can make you look taller.
Layering the Stripes
Stripes are one of those patterns that can easily be worn with just about anything. However, their multi-dimensional nature adds more depth to an outfit than any block color. Adding a simple stripe to your layering repertoire will instantly change the look of your outfit.
Accessories
A printed bag is a real must-have. When you are wearing an outfit that is a bit "boring", a lovely bag can make you look great. So, add brightness to your look with a striped bag and jewelry. The same goes for jewelry, such as a watch with stripes. These can be combined well to keep your outfit from being boring.
Striped Shoes
Striped shoes look great in the summer. These shoes are also convenient because they don't show as much if they get dirty. Besides, shoes with stripes can match almost any type of outfit.
Do you like wearing clothes with stipes? How do you style them? Share your tips with us in the comments below!