Spring will be here in a month, and as you know, spring can do whatever it wants. That is why we want to have body warmers, anoraks, and trench coats. This could also mean rain over there and sunshine over here. In other words, this is also known as a "with or without a coat weather".
Fortunately, there's a wide range of transitional jackets to go fully prepared for spring. For instance, oversized biker jackets have arrived. You will also find many warmers that feel great when you lay down and dusters that make you feel comfortable from the inside out.
Here is a roundup of these beautiful spring coats!
1) Quilted Jacket
The quilted jacket is perhaps the most sought-after jacket of the year. Fashion editors and influencers have been spotted in large numbers wearing them everywhere. Lightweight quilted jackets can be worn under coats when temperatures drop below freezing.
2) Biker Jackets
The biker jacket, the eternal tough guy you pull out of your wardrobe every season around spring, and at the Spring/Summer 2022 show, Prada gave us a direction on how it wants biker jackets to be worn this summer: oversized with mini skirts. The ultimate look for nightlife now that all the clubs have reopened!
3) Oversized Jackets
When the first rays of sunshine break through the clouds and you sit on the terrace, an oversized jacket is a must-have in your wardrobe. You can choose a cool jacket in a standout color that instantly dresses up a basic white T-shirt and jeans.
4) Soft Fleece Jacket
Early morning walk, but still a bit chilly? Then a practical fleece jacket is your best friend. No one would have predicted it, but this year, celebrities are all over the place with variations of the free people, making this jacket cool again.
5) Windbreaker Jacket
Windproof, water repellent, and used by Rihanna as part of her party wardrobe, what more could you ask for in a jacket?
6) Denim Jacket
Since the 1990s, this has been a classic. Many people say that denim jackets are back, but they have always been around in reality. The combinations you can make with denim jackets are endless. There are so many different models to choose from that anyone can enjoy them. Finally, you can wear denim jackets all over the place. Not only as a light jacket for spring, but also winter if you wear a jumper underneath.
7) Trench Coats
Trench coats are often made of thin but high-quality fabrics that are airy yet still warm enough to keep up with the fresh spring breezes. The design of many coats is slightly longer but never too hot. Moreover, this coat is easy to combine. For example, beige is often seen as easy to match with most of your wardrobe. This jacket is also ideal for cycling, especially in rainy weather. Talk about getting to work in the morning in style and dry!
8) Suede Jacket
Suede jackets are beneficial in the middle of the season. Alternating between warm and cold days is easy with suede jackets. These jackets are often thought of as warm jackets. However, the fabric is just thick enough for cooler weather, but not so thick that it overheats on sunny spring days. Although it tends to be expensive, suede is a good investment because it is a very durable fabric and will last for years. This jacket is a beautiful combination. It can be used for both neat and tough outfits.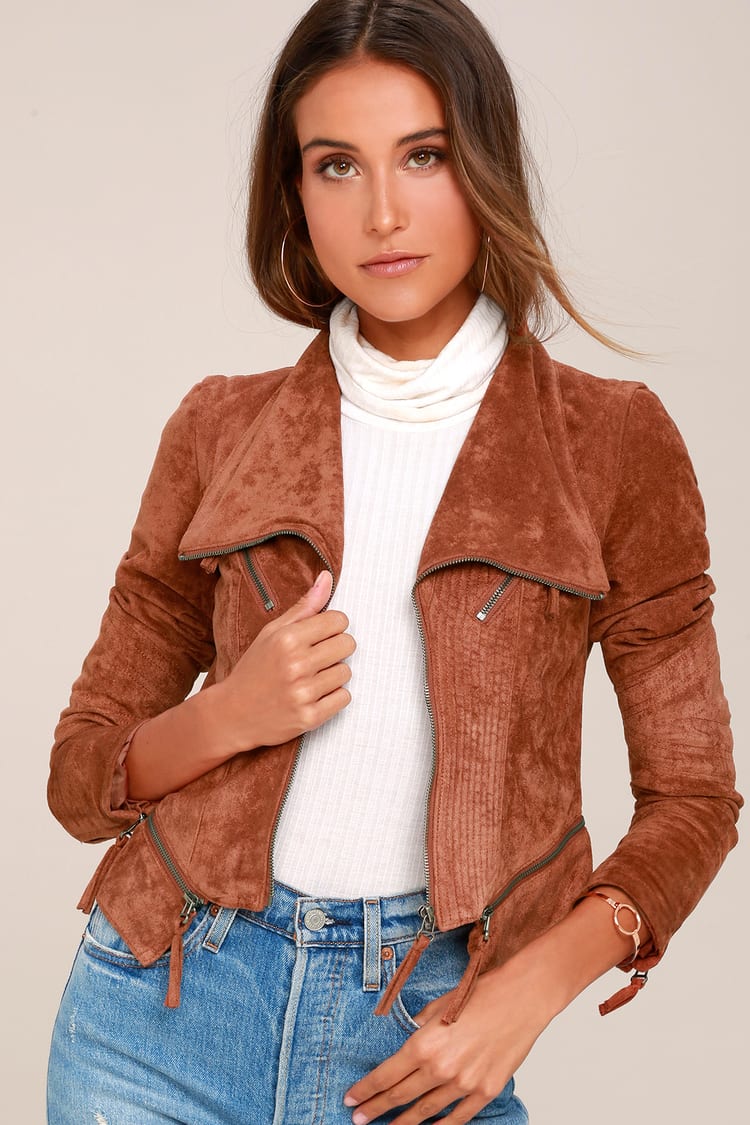 What type of coats do you like to wear in spring? Let us know in the comments below!