Suits make the man. But when you wear a suit, how do you do it right? There are many elements that can come in handy when it comes to suits. Here are some of the basic etiquettes for men wearing suits!
1) Get the Right Material
Choose the right material depending on the time of year—linen or cotton for summer, cashmere, tweed, or merino for winter. Sweating and shivering are both unnecessary and should be avoided.
2) Find a Suit That Suits Your Body Type
The choice between double-breasted and single-breasted suits depends mainly on personal preference. One rule is that if you are a little short or a little overweight, a single-breasted suit is better. If you are tall and skinny, it doesn't really matter.
3) Give Your Suit a Rest
Always dry your suit for a couple of days before using it. This will allow the fabric where the knees and sleeves have stretched to relax and return to its natural position. It also ensures less wear and tear.
4) Button Open, Button Closed
It's a simple rule: unbutton your suit when you sit down. When you stand up again, close the jacket. This will look neat when you walk, and when you sit down, the jacket will not wrinkle if you leave it open.
5) Sleeves
Always make sure that your jacket sleeves are no lower than the base of your palms and no higher than your wrists. For pants, the hem should generally touch the top of the shoe.
6) Wear a Thin Belt
A thin belt is essential to fasten the suit. A thick belt with a large buckle is appropriate for jeans and other pants for everyday use. It is recommended that the belt should be the same color as the shoes.
7) Shirts Should Fit Well
Not only the jacket but also the shirt should fit well. Not too loose and not too tight. It is also uncomfortable if the shirt comes out every time you bend over or raise your arms. Therefore, choose a long enough shirt that does not hang over your shoulders or stomach.
8) Figure Out The Length You Need
You should always make sure that the back of the jacket completely covers your hips. A short jacket will not look good on you even if you are skinny. A well-fitted jacket will look good on any body type. This has been a given for many years.
9) Don't Wear Too Many Accessories at Once
Pocket chiefs, ties, vests, and watches are all beautiful accessories, but you have to be careful not to turn into a Christmas tree when you put them together. When wearing a suit, the limit is three accessories. For a three-piece suit, the vest also counts as an accessory. Adjust the rest of your outfit accordingly.
10) Wear High Socks
If you wear a suit, you should also get some decent socks and shoes underneath. You don't want to show your bare feet, so make sure your socks are high enough. Ankle socks don't go well with suits and won't look good when standing.
11) Choosing the Right Shoes
Avoid boots of any kind. Loafers, derbies, oxfords, and monk straps are best. You will surely find something to your liking among these.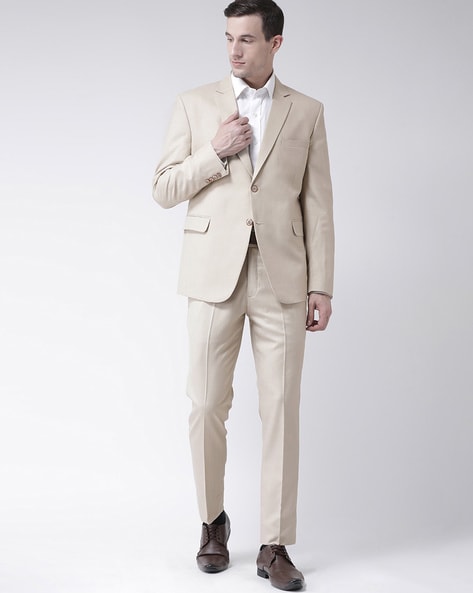 12) Go To a Tailor
This is more an advice than a rule. If you find it hard to choose a good suit on your own, you can always ask for advice and have a suit or size made for you. You will need to invest, but you will get a definite feeling of satisfaction from it. Good luck!
Do you have any other tips? Share it with us in the comments below!