Is it mission impossible to dress elegantly every day in winter? Here are some basics you should have in your wardrobe to achieve a sophisticated look. Maximum style with minimum effort!
The cold of winter is biting. And so are the outfits, hand in hand. Getting dressed every day this season is a challenge but not impossible. But how?
The secret is knowing which outfits you need to create a sophisticated and valid look for any occasion. Invest in timeless items now (take advantage of the latest sales) and dust them off when the temperatures drop. Here are some tips to help you out!
1) Camel Coat
Of all the winter outerwear, the coat is the most versatile. Long models in neutral colors are the savior of everyday wear, elevating even the sportiest suit. Camel is the perfect ally for creating layered outerwear that will keep you cool from morning to night, as street style dictates. Ideal with mini dresses and low and comfortable knee-high boots, as well as with a total black look consisting of a black turtleneck and leggings.
2) Fitted Blazer
How to dress well every day and night in the winter of 2022? Must-haves are long or oversized tailored blazers. The masculine cut also lends itself to feminine outfits like a miniskirt and high boots. Make no mistake, to be reusable in summer, you should also focus on the classic black dinner jacket cut and combine them with jeans.
3) Midi Dresses
If you don't like trousers, how can you wear them well every day in winter? It's all about combining style with attention to detail. Just choose a midi dress, jersey, or a cover-up. You can also have them in prints with dark backgrounds, natural nuances, or even in pitch black. Perfect daywear for winter.
4) Straight Jeans
What are the must-have models for winter 2022? Jeans! Definitely the straight cigarette, in dark denim canvas. They are the cornerstone of every season, able to be paired with a variety of tops, from elegant lace blouses to turtlenecks. And you will never go out of style with revealing black ankle boots that pop out from wide hemlines.
5) White For a Stylish Winter Look
Many people flinch from white in winter months. However, white jackets and coats can liven up a look and still appear winter-appropriate. Cream combos are also on-trend and look very refined.
If the look is too monochromatic, pair white or cream pieces with dark prints or dark solid items to make the contrast vivid. If white is too pristine for winter, opt for cream.
6) Fashionable Scarves
Scarves are a winter essential and a chance to add color to a dark look.
They come in large and regular sizes, usually in various textures, vibrant prints, and colors. Consider a statement scarf to create a more impactful look if you need a little more vibrancy in dark or subdued colors.
7) Head Accessories
In the winter, if you do not protect your head, you will lose a lot of body heat. For this reason, hats are absolutely essential when the temperature drops.
Take this opportunity to invest in a hat that fits your look and face shape and that you would like to wear. In frigid climates, a high-quality faux fur trapper that can be stored for years is a great choice. They will always keep you warm and form part of the winter trend.
A wide-brimmed wool hat is also a chic choice. This will keep your face free and the wool hat will keep your head warm.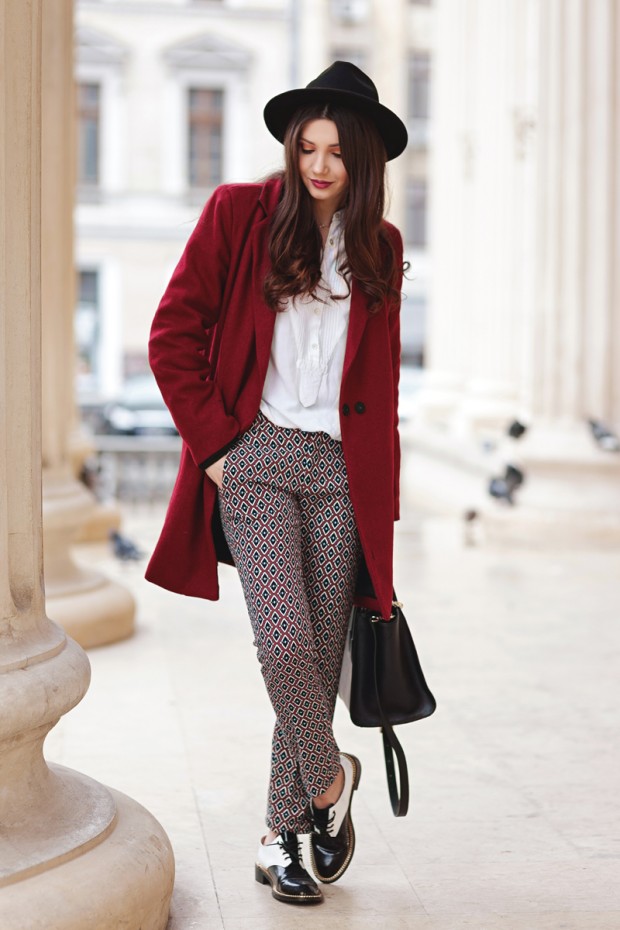 Do you have any other tips? Share it with us in the comments below!