Gone are the days when only elegant pumps could be worn with dresses. Today's trends are all extravagant, so there is no shame in wearing casual sneakers with casual or leisure dresses.
Dress sneakers are becoming more and more popular. Nonetheless, many naysayers still believe that formal wear should be paired with formal footwear only. In general, however, many women prefer comfortable sneakers to elegant pumps. Elegant pumps are attractive and appealing, but comfort is still paramount.
When to Choose Sneakers and When to Keep the Elegant Pumps?
It always depends on the situation. If you are going to a job interview, dinner at a fancy restaurant, or a ball at the opera house, it is best to choose elegant shoes. In situations where formal shoes are required, sneakers may spoil the overall impression.
On the other hand, if you are going out for a glass of wine with friends or going shopping, dress sneakers are ideal. Especially in the warmer months, women often wear light casual wear with denim and leatherette jackets. Sneakers are perfect for such outfits and look great on women of all ages.
Sneakers can also be great for more formal outfits. All you need to do is to choose the right ones. For example, pair a fluffy dress with a light jacket, an autumn hat, and the right sneakers, and you will be an absolute fashion icon! You can also opt for sneakers when wearing a slightly more formal dress to work or out on the town.
There are few occasions when sneakers are appropriate for a social and very elegant outfit. One such circumstance where we see more and more sneakers is at weddings. Today, many brides prefer sneakers to high heels and sandals at weddings, and the right combination of wedding dress and sneakers can be absolutely divine!
Which Dress to Choose to Wear With Sneakers?
Light Summer Dress or Knit Fall Dress
So what kind of sneakers should you choose to wear with your dress? If you're looking for sneakers to go with a light summer dress or a knit dress for fall, it's always better to follow the "less is more" rule. Therefore, choose sneakers that are not too flashy and wild.
Instead, take a gamble on monotone, simple-style sneakers. For instance, straight-soled white trainers will look great with dresses. Black, beige, pink, or purple sneakers can also be quite a showstopper. What is especially important is for the sneakers to be simple, not unnecessarily colorful, and not too sporty.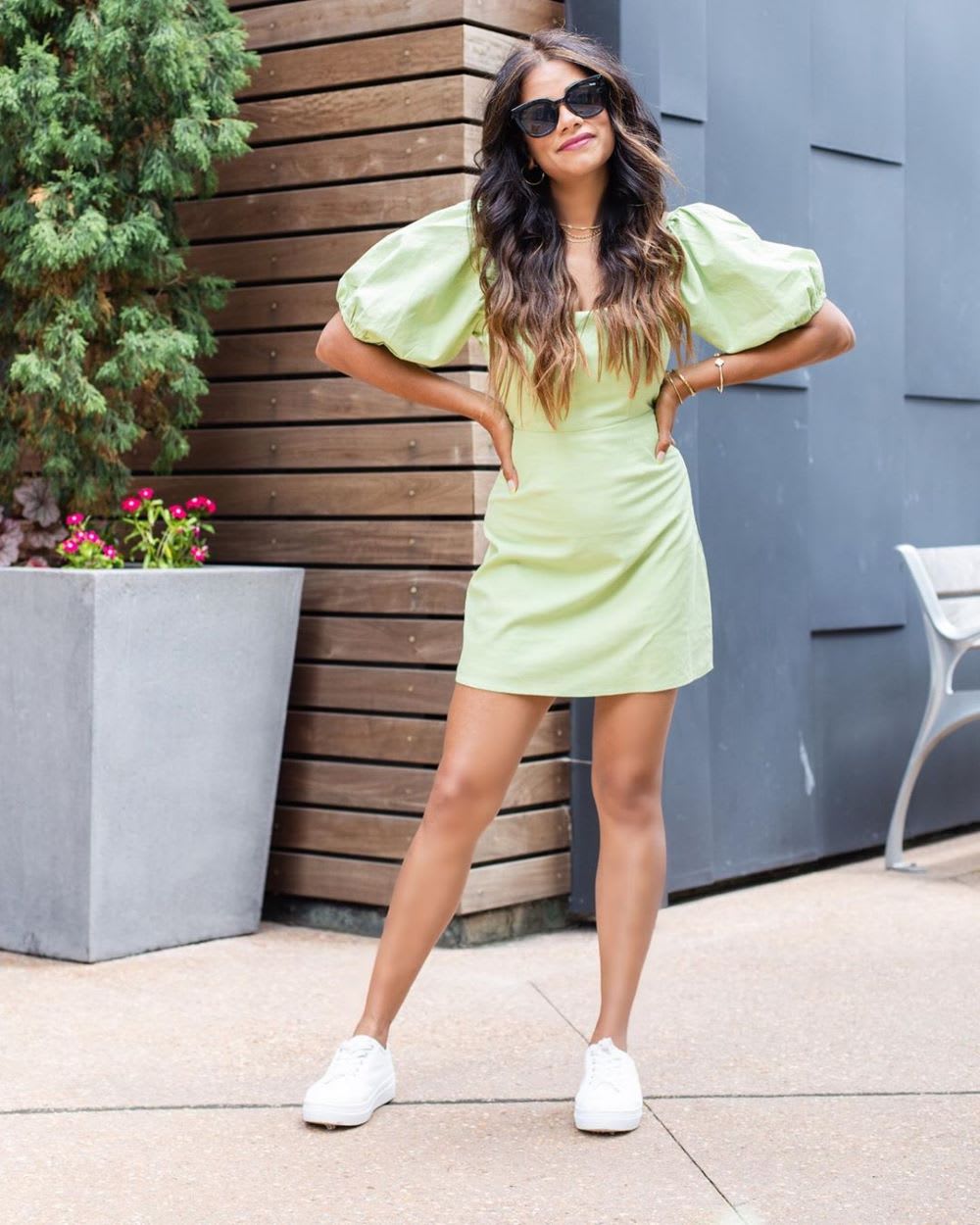 Dresses With Prints
If you like dresses with prints like a cheetah print dress, you can pair it with two-tone sneakers and add an 80's style sunglasses for an Instagram-worthy look.
Floral Dresses
If you're more inclined towards the girly look, you can choose a floral dress and wear it with a pair of the classic Stan Smiths. Not only will this outfit keep the girly look going, but you'll also be comfortable throughout the whole day.
Midi Dresses
For midi dresses, you can choose any casual sneakers for any occasion. Add a statement bag and large sunnies, and you'll be good to go out!
Leave Your Running Shoes at Home
Sneakers for running or tennis are definitely not a happy choice, and this can make the whole thing look like you forgot to change from a marathon. It's best to keep these shoes for just such an occasion.
What about you ladies? Do you like comfortable sneakers too? Or do you prefer to indulge in the timeless classic of sexy pumps? Let us know in the comments below!