Whether they are on stage or on the red carpet, K-Pop idols are known for uniting their music with fashion and marking their place as fashion icons in the world. As years went by and K-Pop's popularity grew, Korean fashion spread its wings and rapidly shaped the fashion industry. Researchers and experts have found that the K-Pop style has spread across both men's and women's fashion. From chic streetwear and chill-out airport fashion to bold colors and daring combinations, K-Pop fashion has given birth to a new globalized trend and flavor to the fashion industry.
Having built the biggest and most loyal global fan base, BTS is currently dominating both the music and fashion industries. However, there's also a K-Pop girl group that's known for making huge waves of style and fashion all over the world. And, if I had to use three words to describe their fashion style, I'd say "cute", "elegant" and "glamorous." That's right, I'm talking about JYP's Twice.
Twice is a South Korean girl group founded in 2015 by JYP Entertainment and the group consists of nine members: Jihyo, Nayeon, Jeongyeon, Sana, Dahyun, Mina, Momo, Chaeyoung and Tzuyu. Unlike some other K-Pop girl groups, Twice is actually a pretty versatile group, as their concepts range may from cute to mature, sexy, retro and so on. Other than their unique visuals and amazing songs, Twice is also known for defining new trends in K-Pop fashion through their music videos and their stage outfits.
So, here are some tips if you want to steal Twice's fashion.
The Strapless Fashion
Many would claim that singing is the most important quality for being a successful K-Pop idol. However, even if she is often not appreciated for her singing skills, Sana is a stan attractor and the K-Pop group earned many onces only because of her. She definitely brings attention from the Japanese public since she's a Japanese K-Pop idol, but her cute and sexy outfits are always making headlines.
With her cutie-sexy charm, Sana can literally pull off any outfit but netizens' favorites include all the strapless dresses she wore in mini, midi and maxi lengths during the "Likey" era, "What Is Love" era, "Fancy" era, "Feel Special" era and "Alcohol Free" era.
In my opinion, the Fancy era was one of Sana' best eras as she looked powerful and like a Barbie doll with her blonde hair and cutie-sexy outfits.
Look Elegant
Before debuting, Mina was a ballerina, which is why her dancing skills are as good as a lead dancer. Despite being heavily criticized for her bland expressions, mina has a very strong stage presence as a sub vocalist, she is pretty good. Other than being known as a graceful dancer, Mina is quite famous for her extremely elegant and classy fashion. In fact, I don't think I've ever seen her wearing a bad outfit.
If you want to carry an alluring trait like Mina, you ought to wear classy outfits with feminine style. Once she wore a sleeveless white outfit with so much sophistication and grace that it made all her fans swoon. Mina is also known for rocking black and edgy outfits with ease. If you are running out of monochromatic black outfit ideas, for example, you may want to wear a cute bralette and top it off with a classic black sheer top or a black sparkling cutout top with a sexy chic skirt.
Get Sporty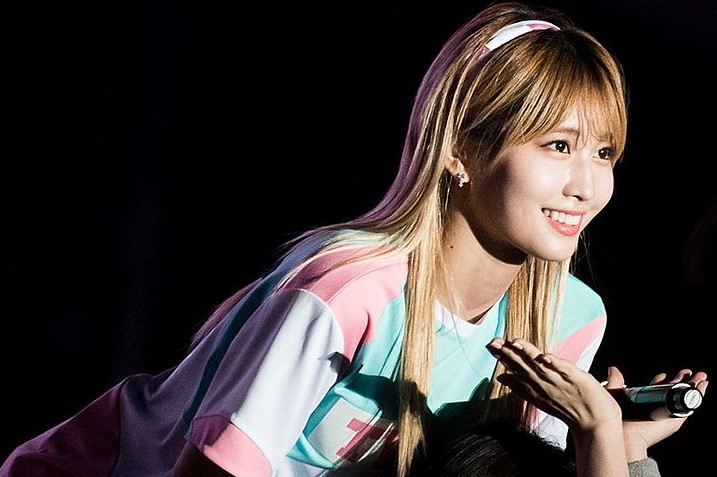 With double eyelids, big eyes, plump lips and straight eyebrows, Momo is known for being very close to Korean beauty standards. The Korean idol started dancing at a very young age and earned her position as lead dancer in the group. However, Momo is also known for her sporty and sexy clothing style.
With her toned body and abs, Momo showed that she could pull off any outfit. But, some of our favorites include her fashionable and casual versions of sports jerseys and knee-high lace-up shoes.