With an ancient history, there are now countless variations of dresses that are perfect for both the bride and her guests. Learn how to choose the ideal retro-style dress for your wedding and body!
The spring air brings the approach of wedding season, and with it, indecision about what to wear as a guest, as a witness, as a bridesmaid, and even as a bride. One of the most versatile options is the empire-style ceremonial dress, couture, and always elegant silhouette, thanks to different materials, inserts, and details that help it adapt to any wedding, figure and taste.
Its Characteristics
The empire dress, born at the end of the 18th and beginning of the 19th century, became the uniform of the women of the Napoleonic era. They were characterized by straight dresses, long ankle-length skirts, drapes or seams at the bust, and belts.
The most striking feature of these dresses is that they are actually very high-waisted, breaking up the figure below the cleavage. Skirts, once a necessity, have changed over time to princess styles, flares, A-lines, and other voluminous styles. At the same time, tops have evolved into more enveloping bodices: lace, chiffon, silk, draped, transparencies, overlays, with or without straps.
Common Types of Empire Waist Dresses
The empire silhouette is often used for party dresses, cocktail dresses, casual dresses, sundresses, wedding dresses, bridesmaid dresses, or anything in between (it is especially popular as a maternity dress because of its lack of nipping around the natural waist).
Other styles include:
1) Criss Cross Empire Dress
These types of empire-line dresses can also come with a beautiful print. They can either be long or knee-length with puff sleeves. The front usually has a V-shaped neckline pattern.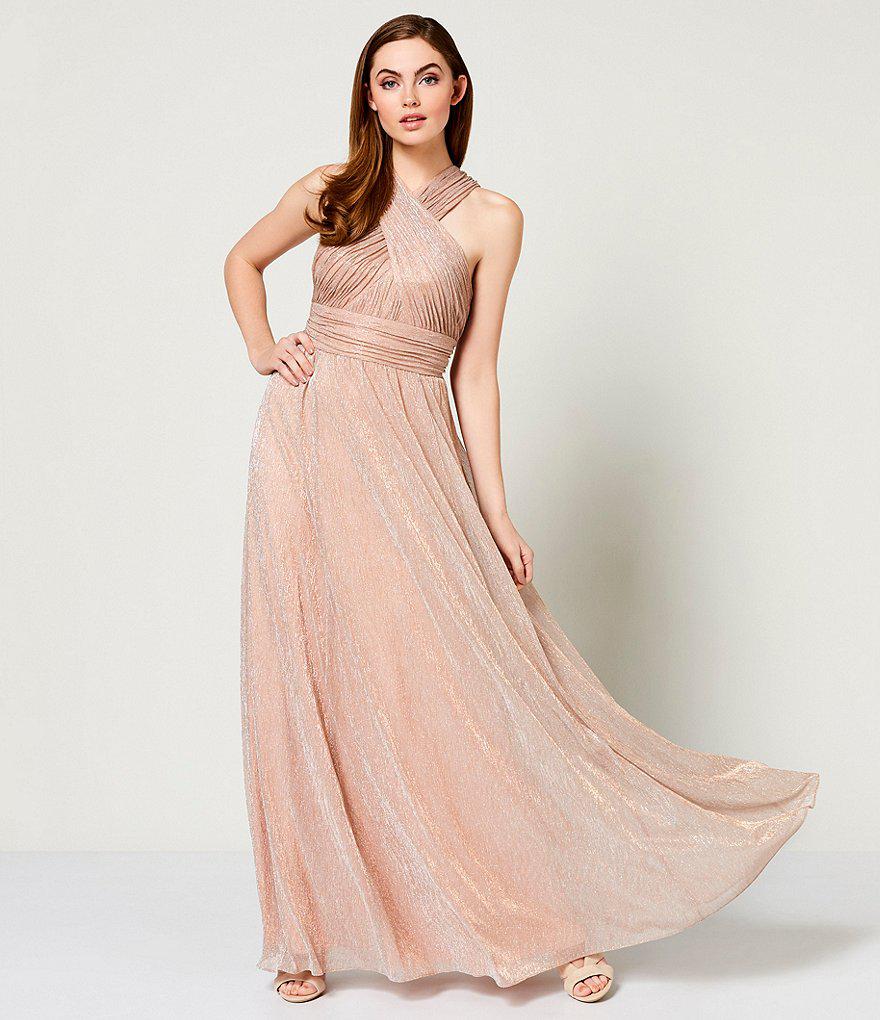 2) Empire Dress With Open Back
This style is a great empire waist cocktail dress that is charming and vibrant. Opting for one with a gold print on a red dress would be dazzling! They usually have a straight cut on the dress side from where the legs are half visible and are backless.
3) Flowing Empire Dress
These are usually A-line patterned empire waist dresses with sleeves. The long dresses are mostly made of chiffon. Both sleeves are made of mesh and printed with a floral pattern and a nice panel is carried on the chest and waist.
Empire Dresses: Which One Suits You?
Due to its structure, it is especially recommended for brides who want to hide their stomach and hips and elongate their figure. The detailing under the bust, especially when combined with a flowing skirt, can slim the figure and hide accentuated hips and an un-flat belly.
This makes it suitable for brides-to-be. So, empire-style wedding and ceremony dresses are the most elegant solution for women with curvy physiques.
They also emphasize the cleavage. Therefore, it is also suitable for those with small breasts. Thanks to its wide and not deep neckline, it is an elegant dress and ideal for religious ceremonies as well.
Looks That Are Also Appropriate for Guests
Aside from the rule that white should not be worn outside of the altar, the dress is suitable for many different types of ceremonies and receptions. Empire-style dresses are not only a privilege for the future bride but can also be a valid option for guests, especially if they are witnesses or bridesmaids. For an evening party, an empire pleated dress is a perfect choice. On the other hand, a mid-length creation is a must for a midsummer beach wedding.
Have you ever worn such styles of dresses for any special event? Let us know in the comments below!