When the temperature drops, getting dressed can become a chore. How do you dress so that you don't feel cold, and which coats and jackets should you pair with your ensemble? Here are some coat styling tips that won't let you down in any situation; you can wear it all the time and still look fabulous!
1) Maxi Dresses and Oversized Trench Coats
Fall without a trench coat? Impossible! This universal item will fit perfectly with any outfit in your wardrobe. And if you are trendy, you can opt for an oversized cut. When the weather gets cooler, it will be perfect for layering, and at the same time, you will be familiar with fall maxi dresses. If the temperature permits, you can wear an open trench coat. However, you may also want to belt it up.
2) Dresses and Bomber Jackets
A soft dress, like a nightgown, can be worn for more casual occasions. Just replace a smart jacket with a bomber jacket (ideally a slightly oversized cut) and ankle boots or pumps with boots, and you'll be a big hit again in a year. Also, if the bomber jacket doesn't suit you, replace it with leather curves and put a slim turtleneck under the dress.
3) Knit dresses and Long Straight Coats
A fine knit dress is one of the must-haves of the season, and rightfully so. You can wear it to work, to your afternoon coffee break, or the wine bar in the evening. Besides, since this dress is often worn in midi length this year, you can't go wrong with a straight-cut coat that matches the dress's color and goes to the mid-calf.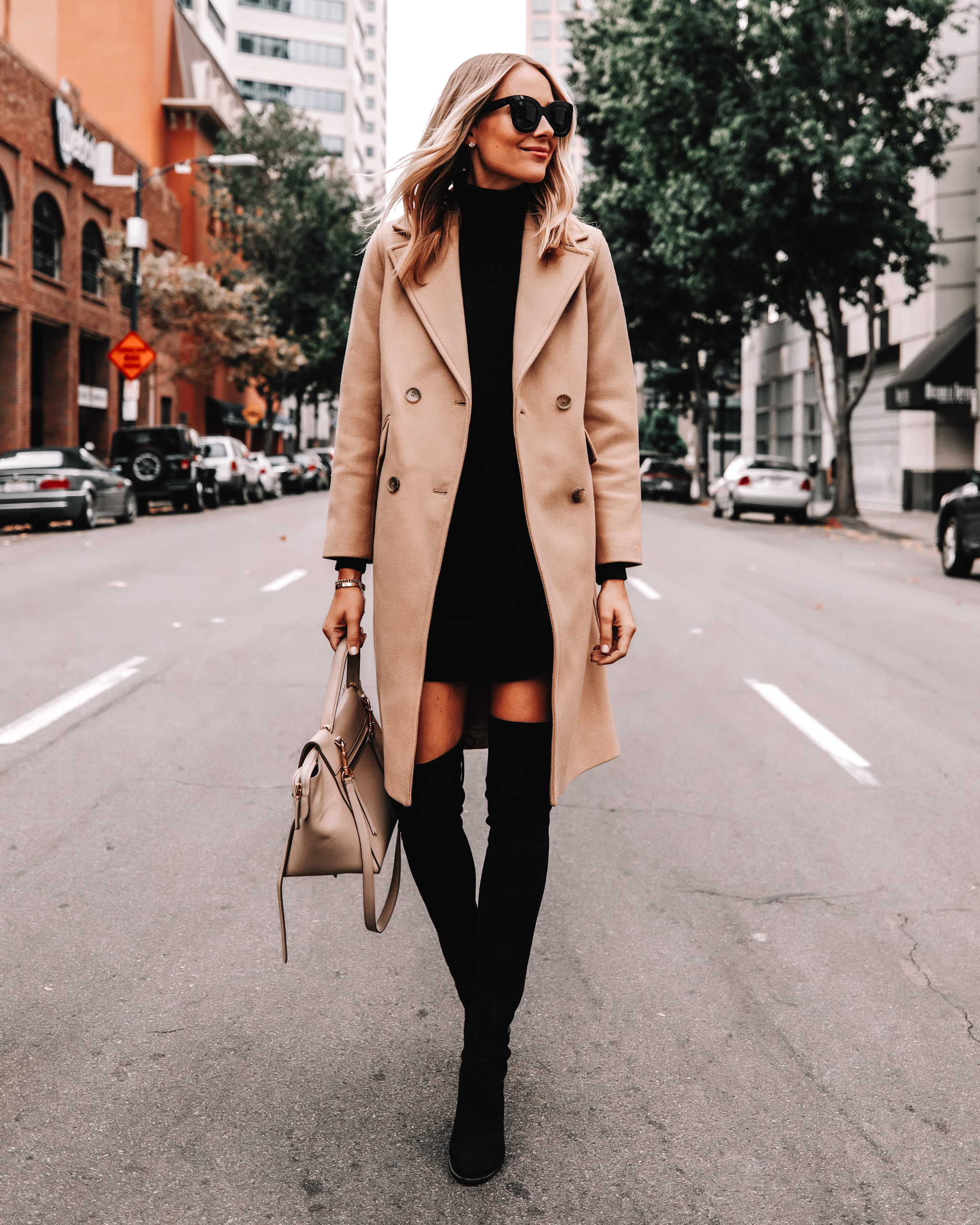 4) Maxi Dresses and Fur Coats
It's already clear that fur will rule the winter season once again. This year, instead of short length, make it at least knee-length. These pieces are perfect for winter midi dresses and maxi dresses.
5) Midi Dresses and Oversized jackets
This combination has become an absolute staple in recent years. However, in the fall, suede boots are a great addition. Also, if you like to play with materials, choose one made of colored leather or faux leather instead of a wool jacket. Such burgundy and hazelnut models are absolutely wearable, and not only with dresses.
6) Mini Dresses and Long Coats
Scarves that are above the knee have the advantage of encompassing most of the upper part of the body. You can wear a jacket with a shortened waist, an oversized cut, a belted outer shirt, or a cropped or bomber jacket. However, if a mini really goes with anything, it is a long coat for men. By combining purely feminine items with masculine elements, you can create a fashionable cocktail that will be loved at any evening event.
7) Fringed Midi Dress and Jacket
Do you like wild west fashion? Feel free to wear any of its elements during the cold season. A fringed jacket is evident, especially with a fluttery boho dress, and can be completed with cowboy boots or lace-up boots. Don't be afraid to stick to quality materials and minimalist colors; they'll bring out the best in you!
8) Slip Dresses and Jackets
Sophisticated and moderately sexy, a black jacket paired with a silk or satin dress will make you look great whether you're going on a date or to a more formal party or dinner. Choose a jacket that is a little bigger and leave it open. Feel free to wear sandals or high-heeled pumps with this combination, but boots or chunky lace shoes will give you a rebellious brand look for outdoor running.
How do you usually wear your coats? Let us know in the comments below!