We've all been there – the alarm goes off, and you find yourself in a rush to get ready for the day. During these hectic mornings, achieving a stylish hairstyle can often seem impossible. But fear not! You can create stunning hairstyles with the right techniques in just two minutes or less. In this blog, we'll share some simple yet effective 2-minute hairstyles that will help you transform your look on those busy mornings without sacrificing style.
1) Effortless Low Bun
The low bun is a classic hairstyle that exudes elegance and is surprisingly quick to create. Begin by gathering your hair at the nape of your neck, as if you're creating a low ponytail. Twist the gathered hair clockwise until it naturally coils around itself, forming a bun. Secure it with a hair tie or bobby pins. Don't worry about perfection – a slightly messy look adds a touch of charm to this style. To enhance the overall appearance, gently tug at some bun sections to loosen it and create a fuller effect.
2) Quick Twist and Pin
For a chic and polished look, the quick twist and pin hairstyle is your go-to solution. Part your hair down the middle and take a small section from one side. Twist it away from your face, then secure it with a bobby pin at the back of your head. Repeat the same on the other side. This hairstyle not only keeps your hair away from your face but also adds a touch of sophistication to your overall look.
3) Simple Side Braid
Braids are versatile and can be adapted for various hair lengths and textures. For a simple yet stylish option, try the side braid. Gather your hair to one side and begin braiding it, keeping the braid loose for a more relaxed appearance. Secure the end with a hair tie and gently pull apart sections of the braid to add volume. This hairstyle is great for adding texture to your hair and keeping it under control throughout the day.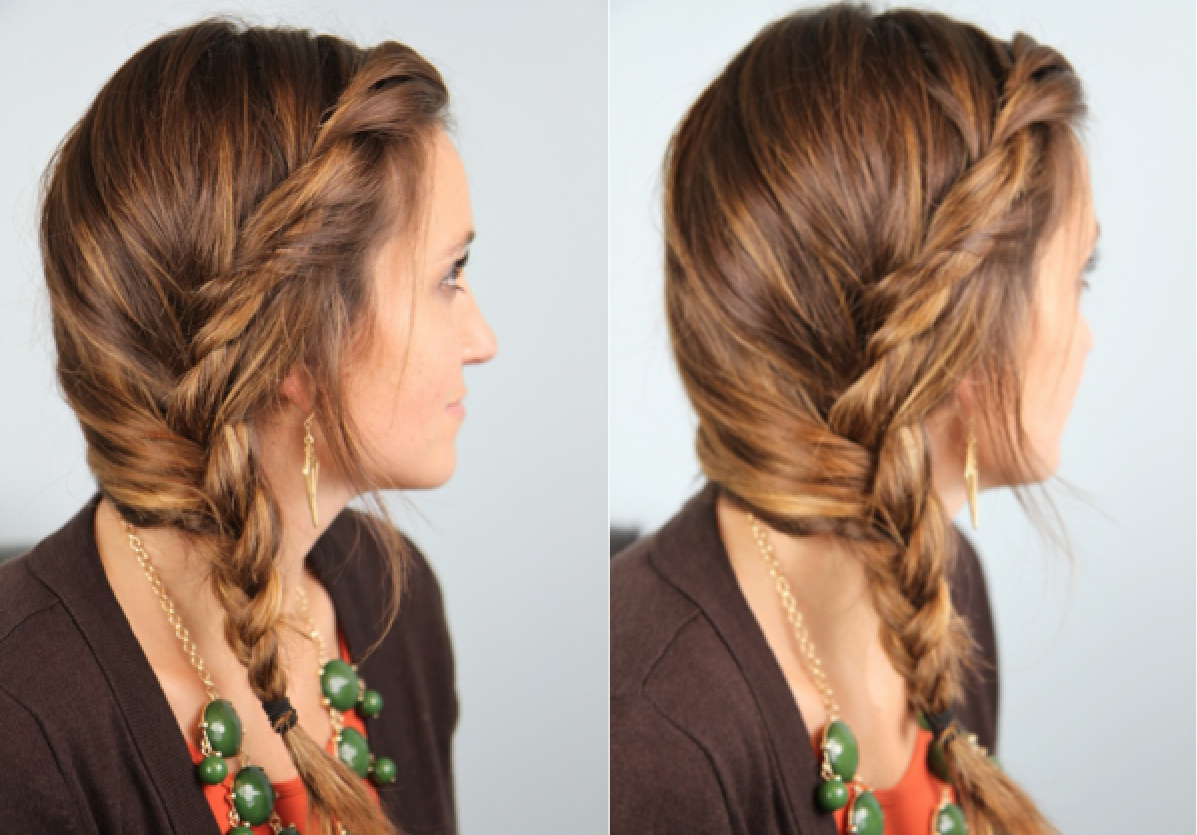 4) Messy Top Knot
The messy top knot is the epitome of casual chic and can be achieved quickly. Flip your hair over and gather it at the crown of your head as if you're creating a high ponytail. Twist the hair into a bun and secure it with a hair tie. Allow some loose strands to fall around your face for that effortless "I woke up like this" vibe. To make it even more relaxed, gently tug at the hair around the bun to create a slightly undone look.
5) Half-Up Twist
If you're looking for a style that offers the best of both worlds – having your hair down while keeping it out of your face – the half-up twist is your answer. Take a small section of hair from both sides of your head near your temples. Twist each section away from your face, then secure them together at the back of your head with a bobby pin or hair tie. This style adds a touch of elegance to your look and is perfect for days when you want to keep your hair off your face while showcasing its natural texture.
Busy mornings no longer have to mean sacrificing style for convenience. These 2-minute hairstyles prove you can achieve a polished and put-together look in no time. From the effortless low bun to the chic twist and pin, the possibilities are endless when it comes to quick and stylish hairstyles. By mastering these techniques, you can confidently conquer your day without compromising your style. So, the next time you're rushing to get ready, remember that a fabulous hairstyle is just a few minutes away!