Do you want to add a personal touch to your outfits? Does the winter season make you want to dress differently? Well, you don't have to look further anymore. In this article, we are going to talk about ponchos!
Ponchos became famous in the 1970s. Not only does it protect you from the cold, but it also gives you a youthful look, making it a handy piece of clothing even today. Here are some of the popular models of ponchos, tips on how to choose one, and the advantages of using them!
Important Things You Need To Know
A poncho is a piece of clothing intended to protect you from the cold. Depending on the thickness and weight, some are recommended for use at home or in places with low temperatures, while others are best for everyday use.
There are two variables in ponchos: fabric ponchos and waterproof ponchos.
Waterproof poncho: This model follows the typical shape of a poncho, with triangular cutouts and a large hood. This product usually comes in a neutral color scheme and is made of a fabric that is resistant to liquids. Therefore, it is ideal for rainy days.
Fabric Poncho: This type of poncho is one of the best-known and most loved ponchos. This is because it comes in various designs and usually has colorful prints on it. On the other hand, there are also fabric ponchos that come in only one color, accentuating a particular outfit.
Buying a poncho is easy, but the hard part is finding the best one. Here are some factors to consider when purchasing your poncho:
Design
Since this is a trendy clothing item, many different patterns are available, ranging from simple to impactful. However, two variables always remain the same: minimalism and boldness. The former is best for everyday occasions, while the latter is best for events.
Minimalist poncho: This model is composed of intricate lines and fabrics and is distinguished by its simplicity. There are no decorations or glitter. The length of the garment is at the waist as usual, and the neck is round. For these reasons, it is ideal for work, movie theaters, and other casual places.
Bold poncho: Many models challenge the traditional poncho design. Some of them have long drapes, large buttons, V-necks, and others come with a hood. This type of attire is suitable for attending parties.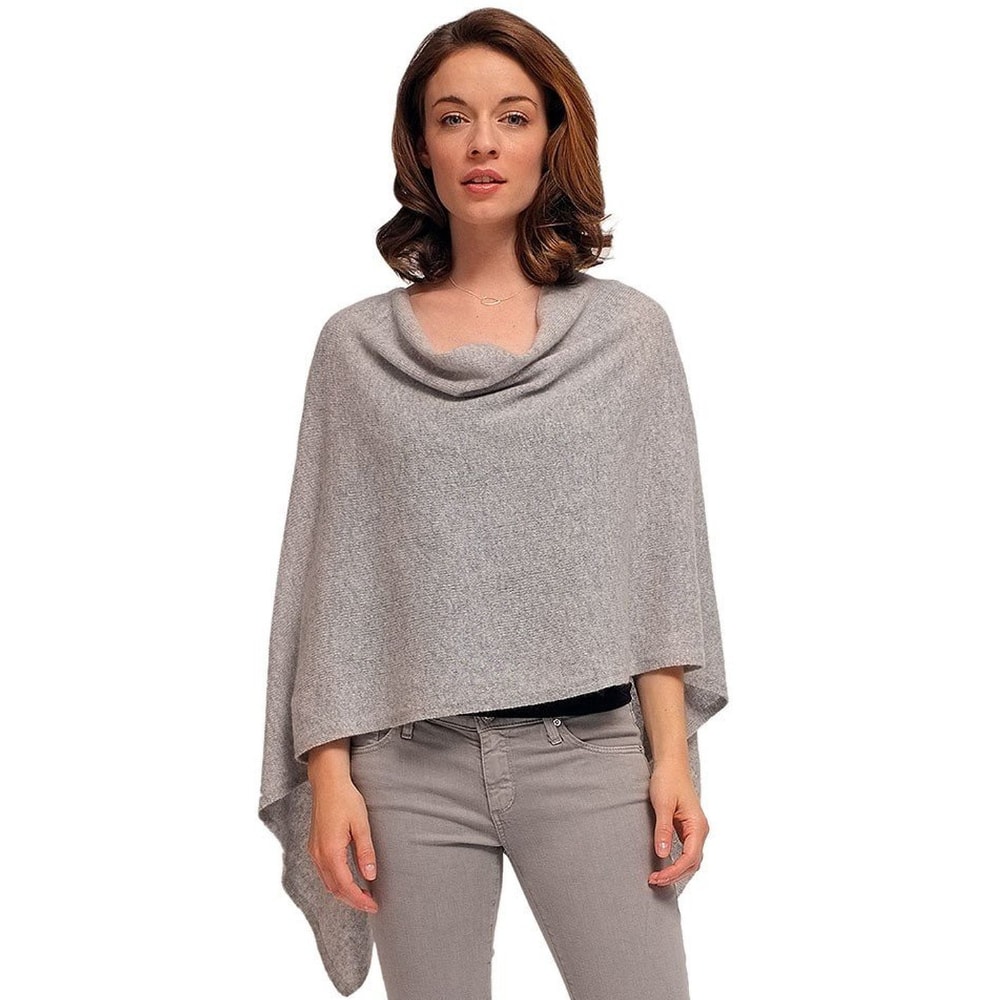 Color
No matter which color you choose, the purpose of a poncho is to make the wearer look elegant. You also need to think about whether you will use it as your main or supporting piece. This question will help you form your wardrobe smoothly.
One-color poncho: It goes well with jeans and high boots. It is meant to complement the outfit you are wearing, so buying a black or white one is perfect.
Colorful poncho: This poncho works like a chapter book. It is usually made of intricate designs and fabrics. Different colors are woven between shapes like diamonds and arabesques to create a visually striking piece.
Size
The purpose of this garment is to protect the wearer from the cold. However, the drape and proportions of the poncho will vary depending on the wearer's age. Therefore, choosing the right size for your body type is important.
Children's ponchos: Children usually need cloth protection to fully protect themselves, so a poncho with a short drape is recommended. This way, they will not fall on the ground and can easily keep out the cold.
Ponchos for teenagers: At this age, the shades of clothing start to change. However, it is recommended to wear a medium drape poncho. This will protect them from the cold and make them look special.
Adult ponchos: Ponchos for adults are usually one size fits all. Therefore, it is advisable to buy one that has a natural drape. Don't forget to buy one that fits your width. With this, you can keep out the cold and easily add it to your wardrobe.
Do you like wearing ponchos? Let us know in the comments below!