Even if you're opposed to the concept "one size fits all", or in this case one trend, and don't agree that every woman should simply have one or the other, it's unlikely that you wouldn't want to have a beautifully tailored jacket or a pencil skirt that fits you perfectly. They are the basis of a stylish woman's wardrobe, allowing her to feel comfortable knowing that she will always have something to wear and show off.
In fact, there are a few other staples that should be in every elegant woman's closet. If you want to make sure you have them all, keep reading! In this article, we list the must-have clothes for you to always enjoy a sophisticated yet modern and contemporary look.
A Little Black Dress
You've probably heard about this one many times. But while it's not uncommon, it's still very important. A little black dress – classic cut, with a fitted skirt, impeccably tailored – is one of those must-have pieces in your wardrobe. And it doesn't have to be black at all. Choose the one that best matches your color type: navy blue, wine red, dark gray.
A Pencil Skirt
The pencil skirt is also a classic, essential not only for office workers, but also for stylish women working in a more casual environment. However, the pencil skirt does not suit every figure. If you are an apple-shaped person, it is better to opt for a fuller midi skirt.
Blue Jeans
There are hundreds, thousands of models of jeans and the same model can look completely different on different people. The most important criterion when choosing a pair of jeans should be that they fit your figure perfectly. As far as the style of jeans is concerned, blue, straight cut and high-waist jeans would be the best choice. They will certainly not be affected by fashion changes.
A White Blouse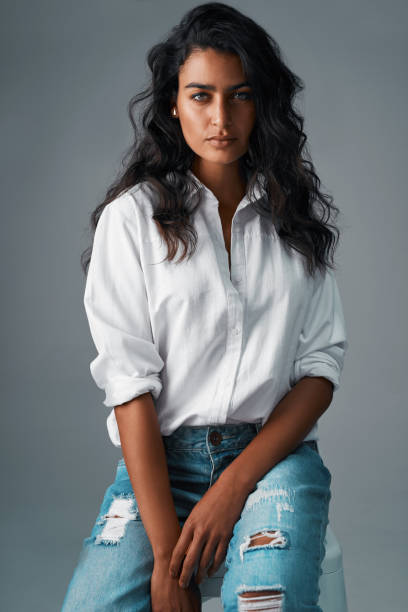 Pair it with a fitted pencil skirt or a full midi skirt, jeans or high-waisted pants. It's one of the most versatile pieces you can wear to work or out. A perfectly pressed shirt will instantly give your look a modern, minimalist elegance.
A Raincoat
A raincoat has a special power to transform even the most casual outfit into an elegant combination. It makes a jeans and T-shirt duo look sophisticated, and when worn over a dress, it takes it to the next level. Choose one with a classic cut and a neutral shade, because you'll be wearing this garment for years.
A Pantsuit
The pantsuit is not only very fashionable, but also incredibly versatile. Wear both pieces and you'll look crazy, and you can adapt this combination to different occasions. When you are tired, just wear them separately. The pants will go with white shirts, high neck sweaters and blouses. A blazer goes with almost everything.
Cigarette Pants
Narrow, high-waisted pants are perfect with any blouse. Take inspiration from the stars of French style and buy a black cropped pant. By the way, this garment can be just as comfortable as jeans, just choose a model made of a fabric containing stretch materials.
A White T-Shirt
For many people, a white T-shirt still seems to be a garment that is not worth paying more than a few euros for. The truth is, you can only tell the difference between a quality cotton T-shirt and a poor quality one if you've tried both. This versatile item is a must-have for your wardrobe, but make sure you choose something that will last.
A Thin Wool or Cashmere Sweater
A simple, thin sweater is a garment worth investing in. Look for a model knitted in a good quality wool or cashmere yarn. It will become a year-round companion that you can wear under your jacket in winter and keep handy in spring, in case of an unexpected chill.
You now know what are the staples to have to create an elegant wardrobe. Do you know other must-have pieces that we've missed? Share them in the comments below.