French women have long been admired for their effortless style and innate sense of fashion. When it comes to their wardrobe, dresses play a significant role in reflecting their timeless elegance. From the streets of Paris to the countryside, French women are obsessed with certain dresses that perfectly embody their chic and sophisticated aesthetic. In this blog, we will delve into the various types of dresses that French women adore, highlighting their versatility and enduring allure.
1) The Little Black Dress
No discussion of French women's fashion would be complete without mentioning the iconic little black dress, or "la petite robe noire." Renowned for its versatility, this timeless piece is a staple in every French woman's wardrobe. Whether it's a formal event or a casual gathering, the little black dress effortlessly exudes elegance and sophistication. With its simple yet tailored silhouette, French women embrace this classic piece and elevate it with their individual touches, such as statement accessories or a pop of color through shoes or a handbag.
2) The Effortless Shirt Dress
Another dress style that French women adore is the effortlessly chic shirt dress. This versatile piece combines a button-down shirt's classic elements with a dress's feminine grace. French women appreciate its relaxed yet polished look, making it suitable for both professional and casual occasions. Often crafted from lightweight fabrics like linen or cotton, the shirt dress is ideal for warmer weather. French women style it with a belt to cinch the waist and add definition, or they leave it loose for a more relaxed and carefree vibe.
3) The Breton Striped Dress
A quintessential French fashion staple, the Breton striped dress, or "marinière," captures the essence of Parisian style. Originating from the maritime culture of Brittany, this dress features horizontal navy and white stripes. French women embrace this dress for its nautical charm and timeless appeal. The Breton striped dress effortlessly combines comfort and style, often crafted from soft and breathable fabrics. It can be paired with ballet flats, a straw hat, and a crossbody bag for a chic, casual look that epitomizes the French aesthetic.
4) The Feminine Wrap Dress
The wrap dress is a beloved style among French women due to its feminine and figure-flattering design. This dress is characterized by its wraparound silhouette, secured by a tie or a belt at the waist. French women appreciate the versatility of the wrap dress, as it can be dressed up with heels and statement jewelry for a sophisticated evening look, or dressed down with sandals and a straw tote for a relaxed daytime ensemble. The wrap dress effortlessly accentuates curves and creates a timeless and elegant silhouette.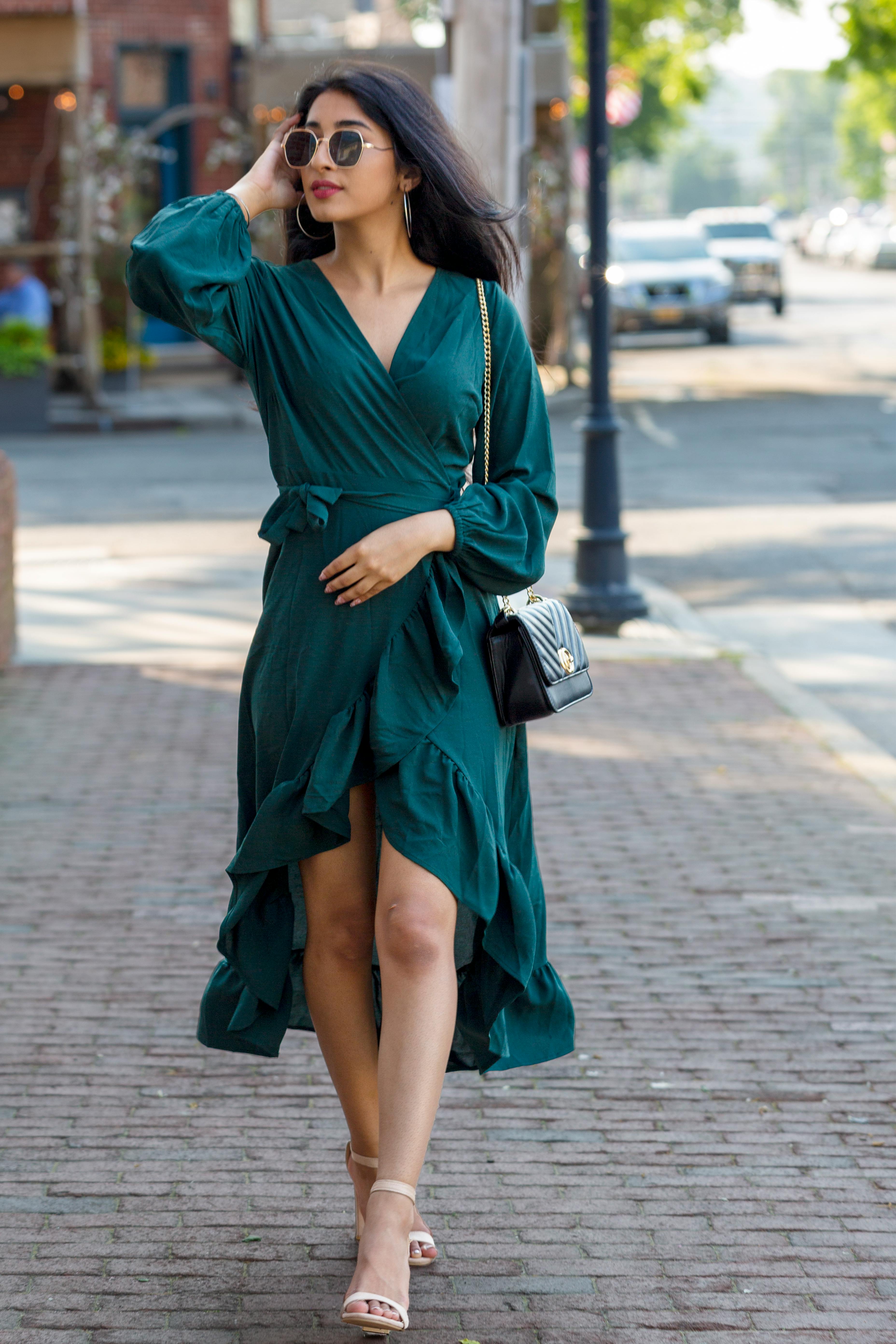 5) The Bohemian Maxi Dress
French women also have a fondness for bohemian-inspired maxi dresses. These flowy, floor-length dresses often feature romantic patterns, delicate fabrics, and intricate details. French women love the ethereal and carefree vibe that these dresses exude. Bohemian maxi dresses are perfect for warm summer days or beach getaways, whether adorned with floral prints, embroidery, or lace. They can be paired with sandals and a wide-brimmed hat for a boho-chic look that effortlessly embodies the relaxed elegance French women are known for.
French women have a distinct affinity for dresses that embody their sophisticated and timeless style. With their impeccable taste and attention to detail, French women have mastered the art of effortlessly combining elegance and comfort. By embracing these dress styles, women worldwide can infuse a touch of French flair into their own wardrobes, embracing the timeless allure that French fashion represents.
Let us know if these few tips have helped you in the comments below!