Leather skirts are cool, sexy, and very feminine. Many women favor them over other types of skirts. Perhaps you have a black leather skirt that has been sitting in your wardrobe for a long time, not knowing how to wear it. Or maybe you are looking for a new skirt variation and are thinking of choosing a leather skirt, but don't know which one to choose. Whatever the case, we're here to help you with some tips!
Leather skirts can be worn in various ways, so there is no reason why they should only look good with one top or blouse. We also have a wide variety of leather skirts to choose from. Aren't you curious? Here are the best ways to combine leather skirts!
1) Choosing the Color
Leather skirts can be found in most women's wardrobes, but if you don't have one, buy one right away or, of course, buy an extra one. Instead of the classic black, you can opt for a red leather skirt or some other cool color for a change.
2) Oversized Knit Jumper
Knitwear, jumper, oversized. These three are the keywords to create the perfect jumper, and it will look very fashionable when paired with a black leather skirt. Wearing a knit jumper with a leather skirt will make it look all the more casual but cool, what could you ask for more?!
3) Sneakers
Why do we often wear skirts with boots? Probably because it's the most obvious, but what about a nice pair of sneakers?  This way, you can also add a sporty and comfortable touch to your feminine outfit. So, ditch those boots and buy those sneakers!
4) Turtleneck
Would you like to turn that pretty skirt into an elegant look? Then a turtleneck jumper is perfect for you. This one is casual yet neat. Whether you want a fitted turtleneck jumper or a chunky oversized turtleneck jumper, you can combine it all with a leather skirt. For instance, a black turtleneck would look fantastic with a brown leather skirt.
5) Long Cardigans
Besides knit jumpers, long cardigans are another eye-catching item. For example, a nice short-sleeved shirt can be combined with a leather wrap skirt. If you wear a long cardigan over it, not only will it look great but you can wear several outfits at once! So from now on, the combinations of short-sleeved shirts and leather skirts will be endless!
6) Denim Shirts
Denim here, denim there…. Why not try it with a black leather skirt? Denim shirts come in light and dark colors and can be easily paired with leather skirts. Another option is to button up the denim blouse entirely and wear a lovely necklace, but if you want to show a little cleavage or a lacy top, you can leave the top button open.
7) Glamour
Choosing a zippered leather mini skirt is an easy way to look glamorous.  Basically, you can wear anything you want, from a warm jumper to a sexy top for a night out. Leather on leather is also the perfect trend for this season.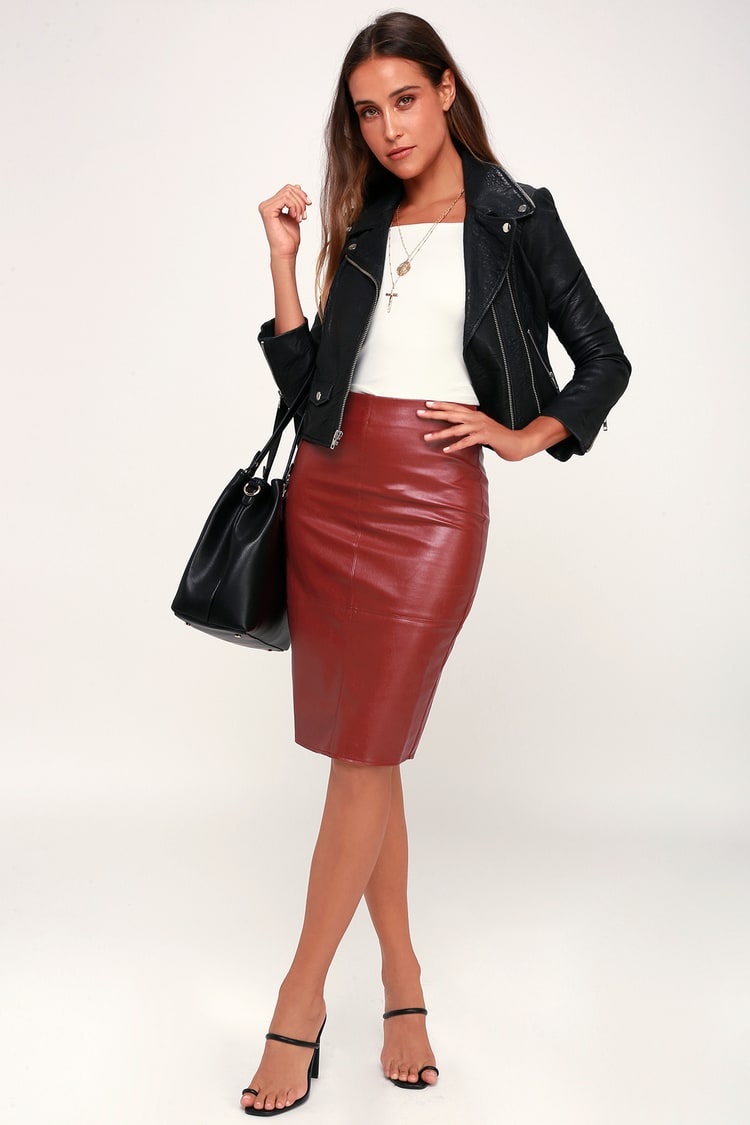 8) Trendy
Leather skirts don't necessarily have to be black, and we are seeing more colorful leather skirts with prints. For instance, the combination of white and snake print is very fashionable and goes well with black. You can complete the look with high boots below the knee, or you can choose ankle boots if you find them a little too strong.
Tell us how you usually pair your leather skirts and share your tips with us in the comments below!